Transmit is a third-party integration with B2 that makes a simple drag-and-drop interface for users to interact with B2 just like they would any folder on their computer. Transmit is only available for macOS.
Transmit can be downloaded from their webpage here: https://panic.com/transmit/
When the installer download is complete, run the installer.
Once Transmit is installed, you will need an Application Key and Application Key ID from your Backblaze account.
To get this information you will need to go here:
https://secure.backblaze.com/user_signin.htm
Type your email address and password used for Backblaze, then click Sign In.
Once you have signed in, click the App Keys link in the left-hand navigation pane.
Then you will need to either use your Master Application Key or create a new App Key as shown here: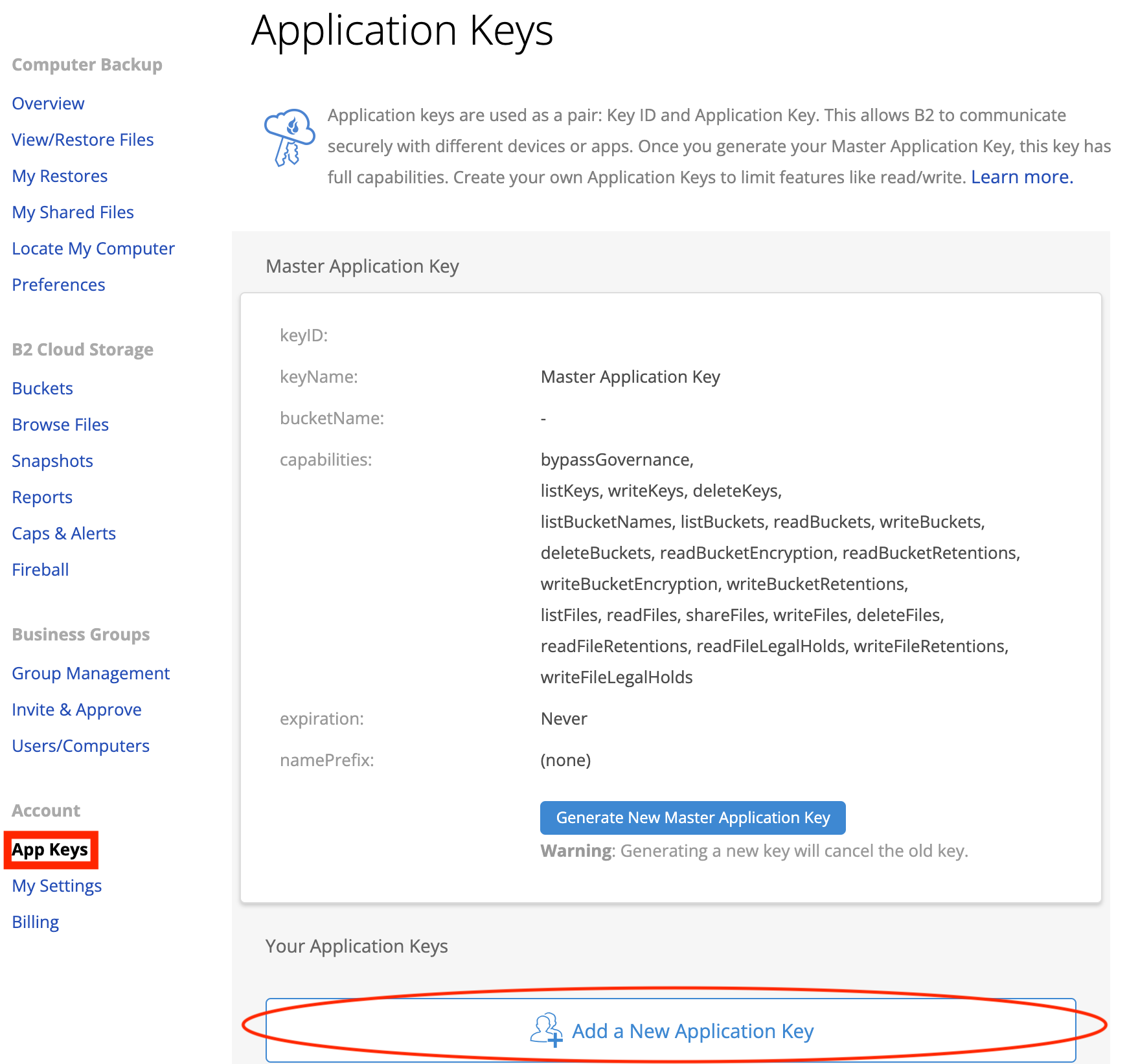 Clicking this will bring up a screen where the Key ID and Application key will be listed

Keep this window open or paste the Key ID and Application key to some other place so it can be accessed later for setting up Transmit.
Setting up Transmit to B2
Open Transmit and click the Quick Connect icon.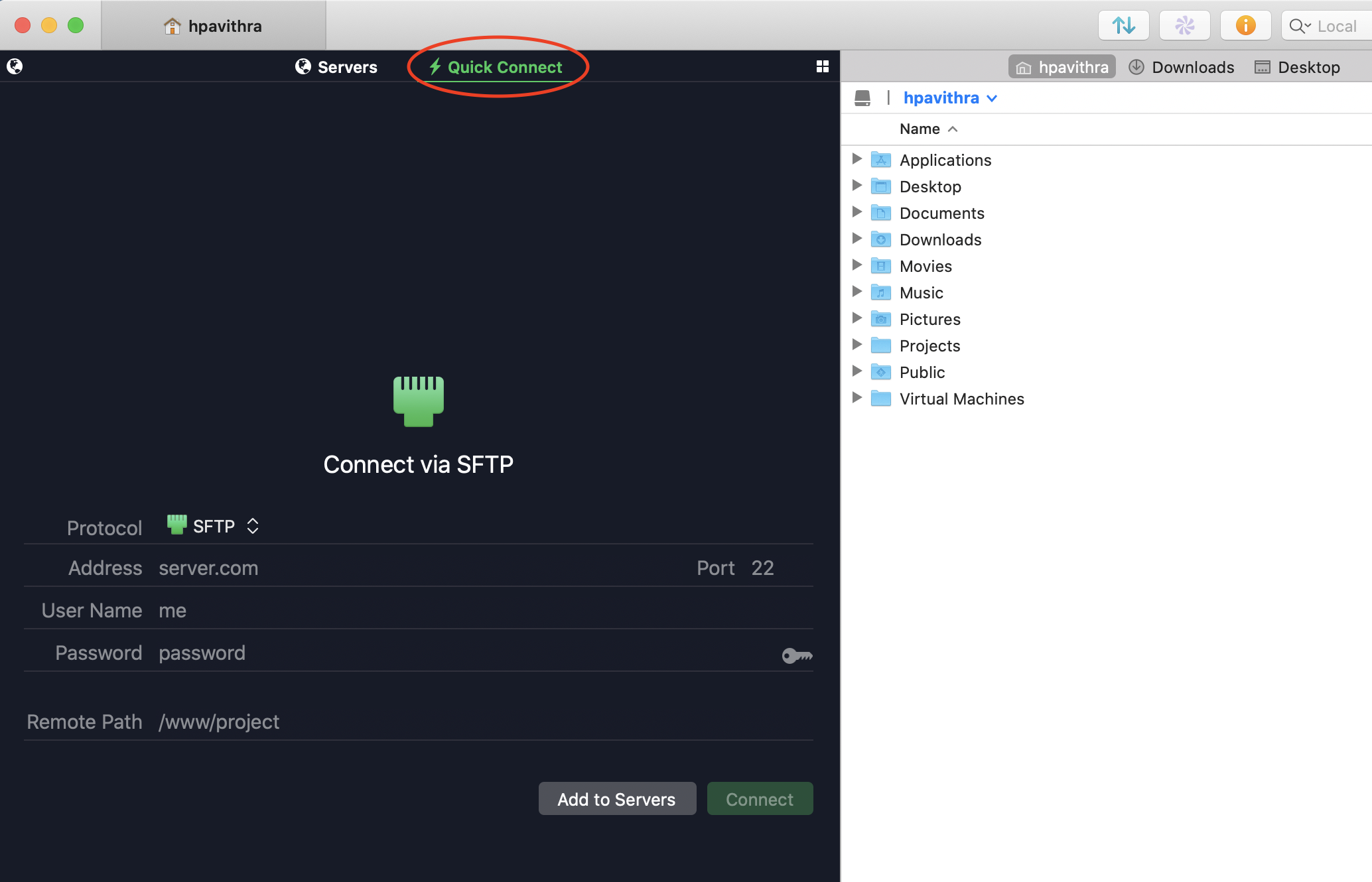 Click the drop-down field that reads SFTP and select Backblaze B2 as the cloud storage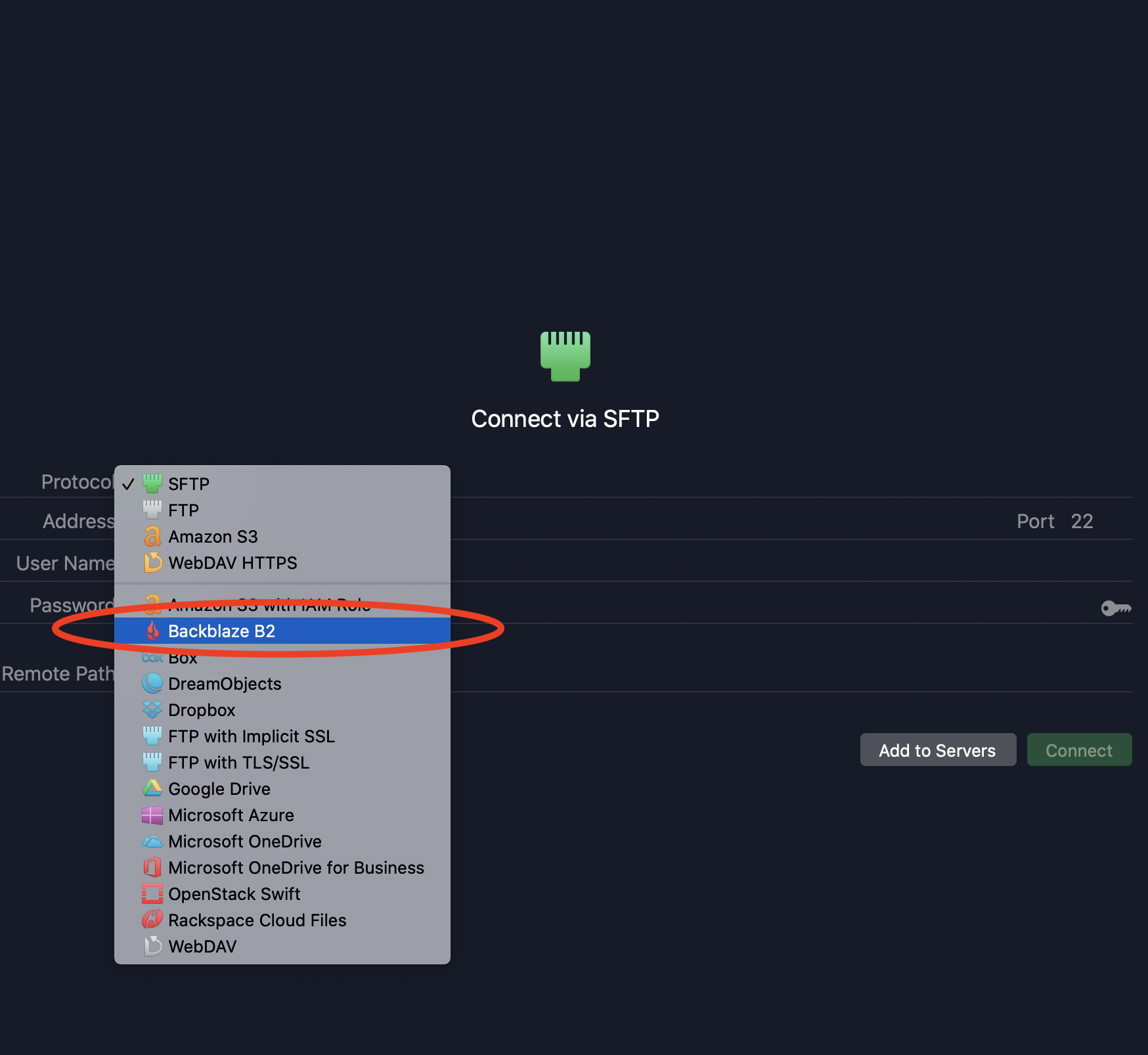 Type in or paste the Key ID and Application key which we got earlier into the appropriate fields and click connect.
Uploading a file to B2
If you don't have a bucket already to upload your files to, we have a helpful guide here.
All your buckets will show on the Transmit window and this is how it will look like: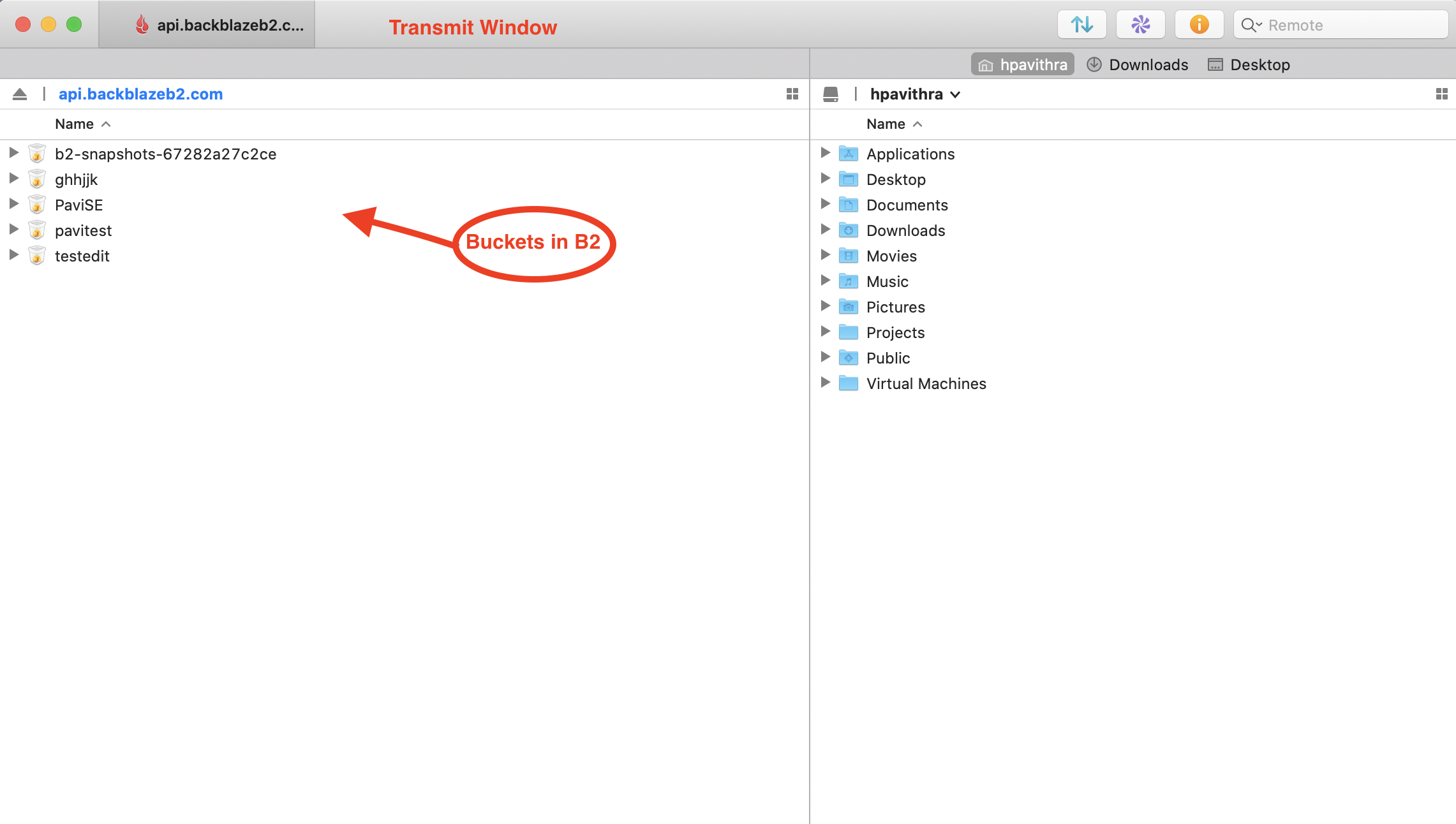 Now just drag a file to the bucket and it will get uploaded.
If you click on the transfers icon it will show you the files getting uploaded to B2 and also the rate at which it is getting uploaded.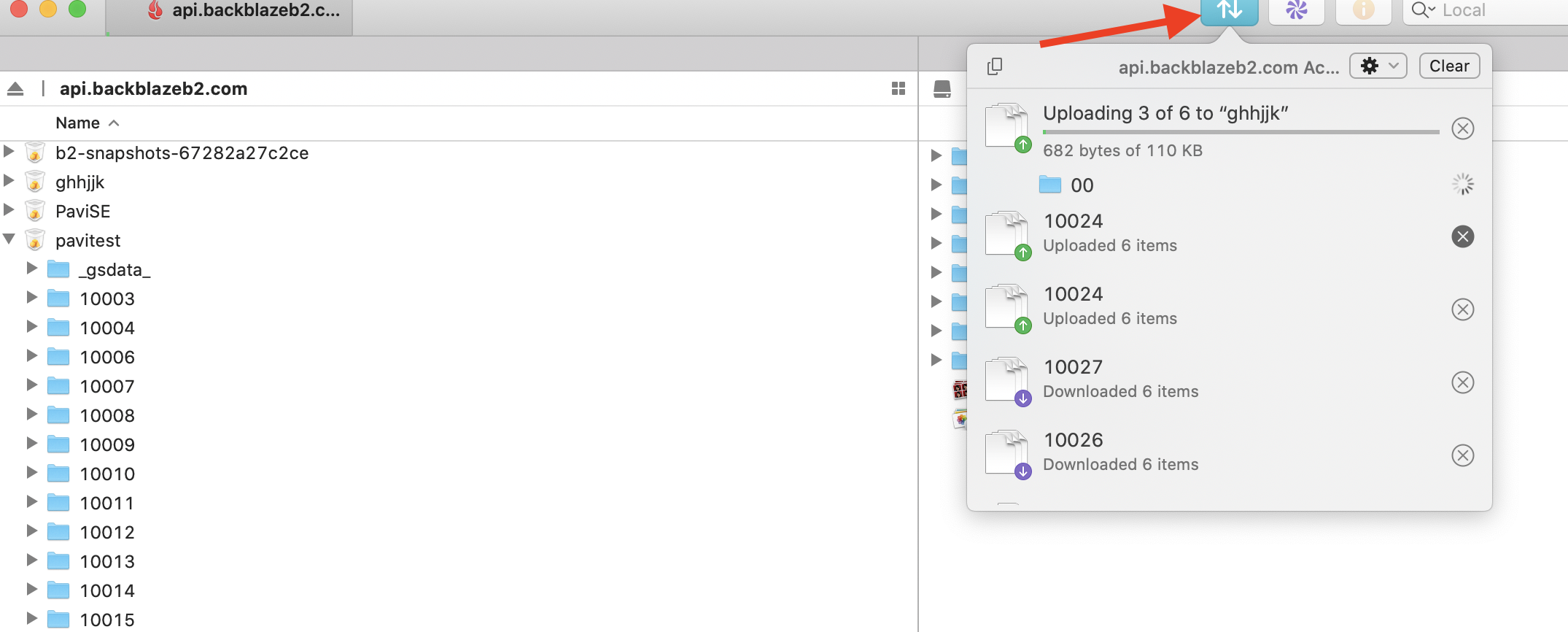 Best Practices
To improve the transfer speed, go to Preferences and click on the transfer icon. In the Transfers window, you can change the number of files transferred simultaneously up to 12. This will help to improve the speed at which the files can be uploaded or downloaded.
To enable automatic retry of file transfers, it is recommended to change the setting for Download Files and Uploading files to be "Try to resume the transfer". This will help prevent issues when uploading large files, by automatically retrying the transfer multiple times. Larger files are transmitted in parts, and if one part fails, the whole transfer fails. By changing this setting, if something causes a part to fail, it will be retried, instead of failing.