Sign In:
To create a group, first log in to your Backblaze account with your email and password. Visit https://secure.backblaze.com/user_signin.htm to sign in.

Verify Email:
Once signed in, if you have not already done so, please verify your email. Instructions can be found on the Verify Email FAQ page.
Enable Groups:
Once you have verified your email address, enable Business Groups and confirm that you accept the terms and conditions.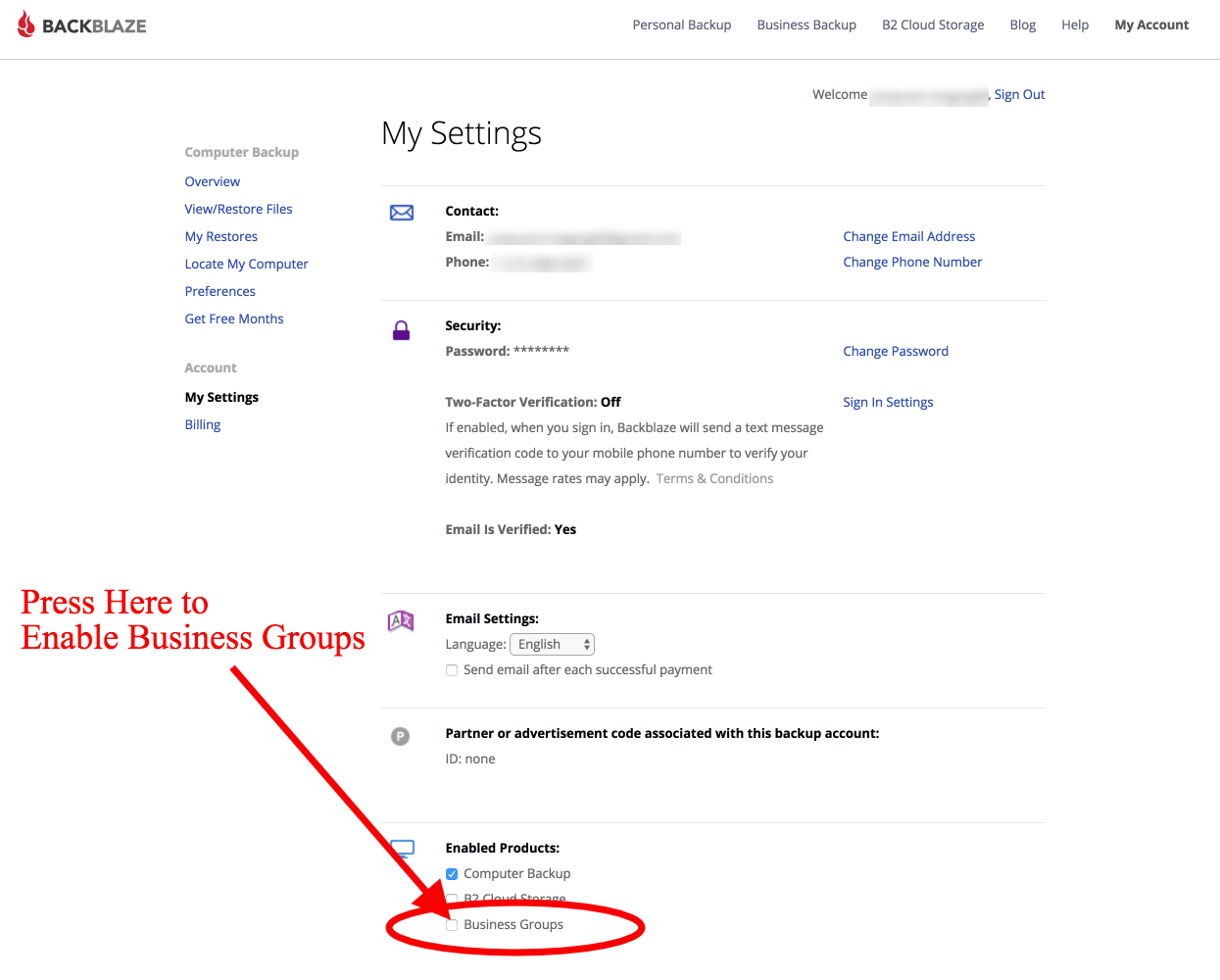 Create A Group:
Once Groups have been enabled, your left-hand navigation will change to show that Business Groups have been enabled. Navigate to the 'Group Management' tab to begin creating a group.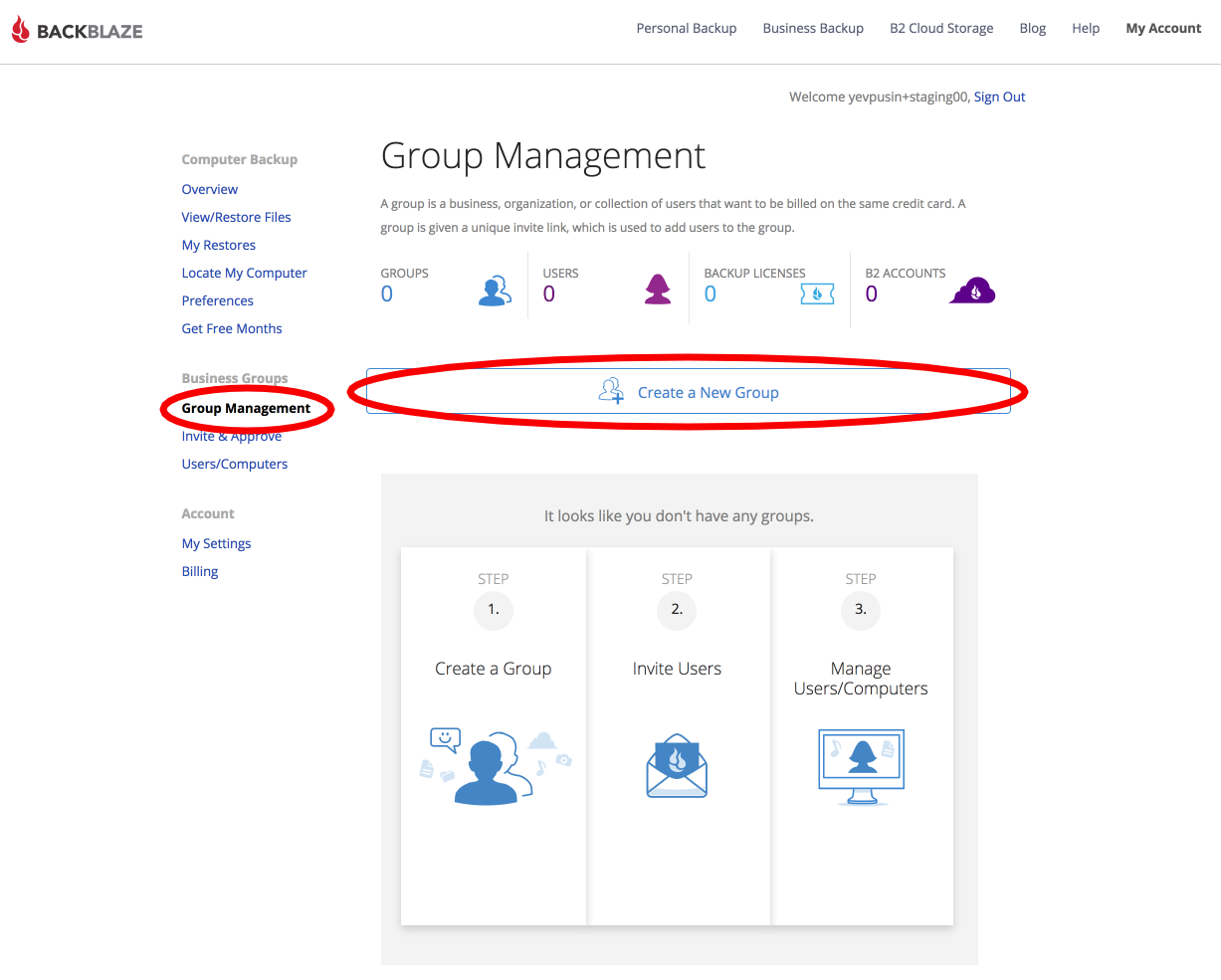 After pressing 'Create a New Group' you will be able to fill out the form and create your group.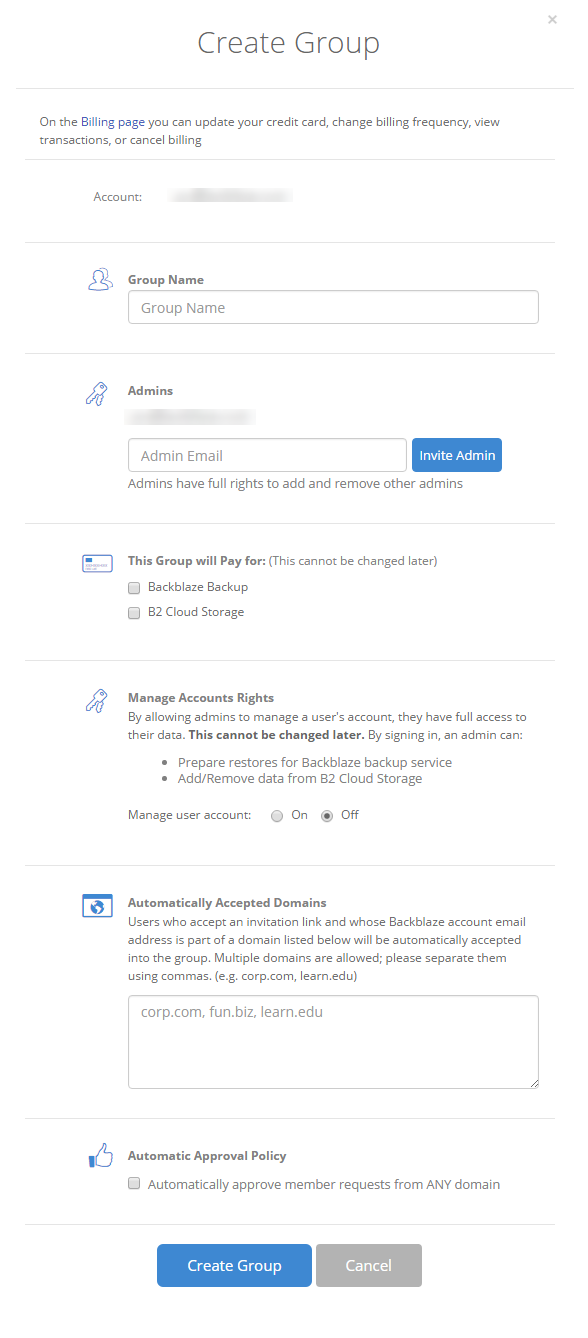 Group Settings:
Group Name:
This is the name of the Group, we recommend using the name of the organization or the group of people who you wish to create this Group for (i.e. CoolCorp-Marketing, CoolCorp-Finance, etc…). We also recommend that the Group names be unique.
Admins:
Email address' for Administrators that will manage the group. Administrators have equal rights, and can change group settings, and add/remove other administrators.
This Group Will Pay For:
This is the product or service that the Group will pay for. You can have a Group to encompass Backblaze Online Backup, Backblaze B2 Cloud Storage, or a Group that pays for both. If you need to create a Group which pays for another service, you can create that group and move appropriate Members to it as needed. Once a Group is created, this setting cannot be changed.
Manage Account Rights:
This setting dictates whether or not Group Administrators will be able to manage Group members' accounts. There are two types of Groups:
Unmanaged - Group Administrators pay for Backblaze service, but cannot manage user accounts and create restores.

Managed - Group Administrators gain managing rights, including: accessing B2 content, creating restores and changing account settings (i.e. requesting a password reset, changing email address, etc…).
If a Managed Group is created, members will be asked to acknowledge that they allow Group Administrators to manage their account when accepting Group invitations. Once a Group is created, this setting cannot be changed.
Automatically Accepted Domains:
Add domains (coolcorp.com, rad.biz, smart.edu, etc…) here if you would like to automatically allow Group members from within that domain to join your Group without needing Administrator approval.
Automatic Approval Policy:
Enabling this setting will allow anyone from any domain to be automatically accepted into this Group. Administrators can remove Group members at any time.
Invite Members:
After creating your Group, you will need to invite members. Please visit our Adding Members to a Group FAQ for more information on different invitation methods.
A walkthrough video on all of the above is available on YouTube here.