Backblaze Exclusions Settings (Mac)
The Backblaze "Exclusions" settings allow files to be excluded from your backups based on directory, file type, or file size.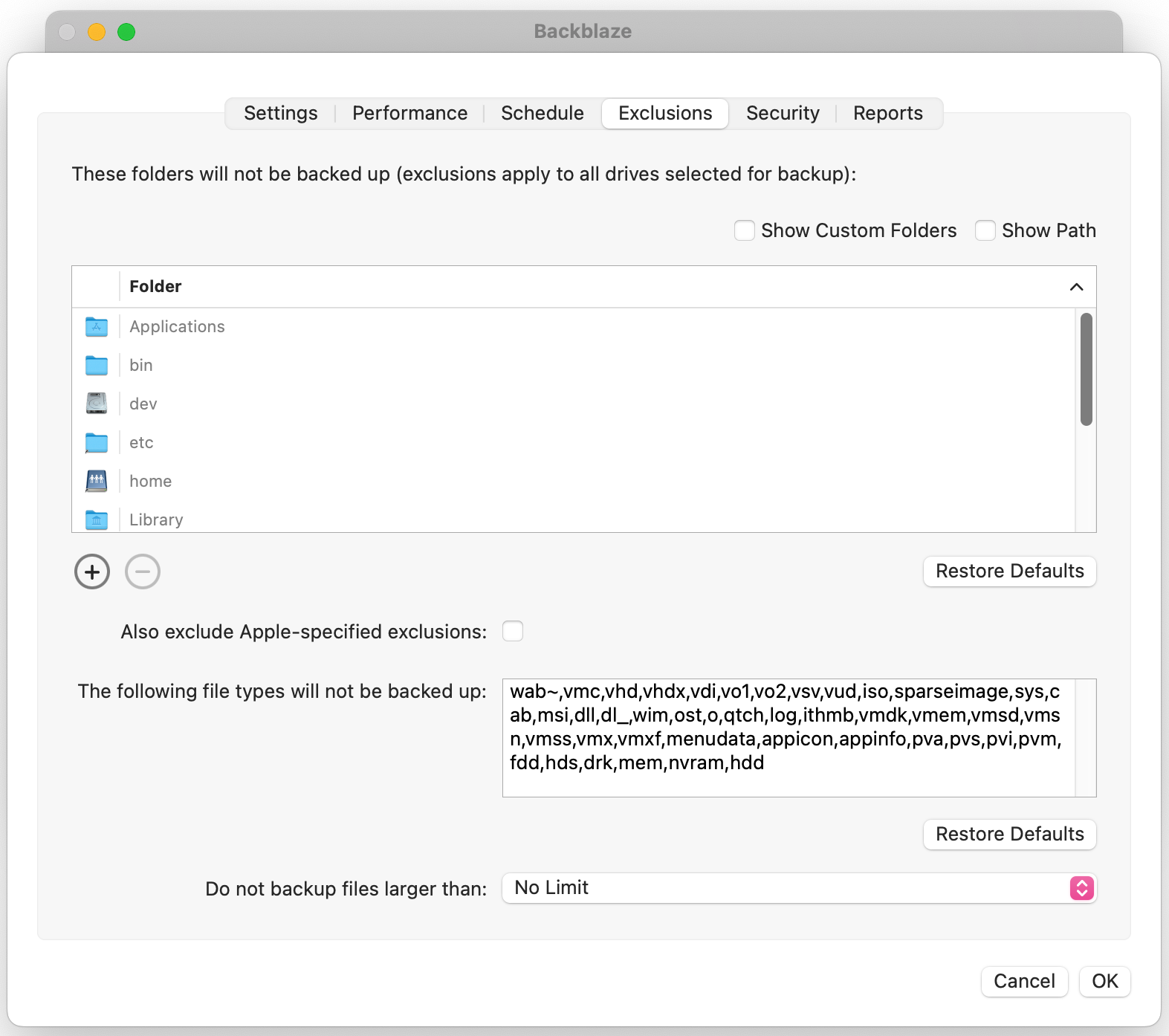 Directory, or Folder, exclusions will prevent all files and sub folders of the directory from being indexed or included in the Backblaze backups. The default directory exclusions cannot be removed, but additional exclusions can be added. The full list of the default directory exclusions are as follows:
/Applications/
/Library/
/Private/
/System/
/bin/
/dev/
/etc/
/net/
/sbin/
/usr/
/home/
All folder path exclusions in the Backblaze settings apply to all volumes selected for backup as of version 4.1.
The default file type exclusions include file types that most users do not want to include in the Backblaze backup. However, this exclusion list is entirely editable to suit your needs. The default file type exclusions include the following file types:
wab~
vmc
vhd
vo1
vo2
vsv
vud
iso
dmg
sparseimage
sys
cab
exe
msi
dll
dl_
wim
ost
o
qtch
log
ithmb
vmdk
vmem
vmsd
vmsn
vmx
vmxf
menudata
appicon
appinfo
pva
pvs
pvi
pvm
fdd
hds
drk
mem
nvram
hdd
By default, Backblaze will backup files of any size. However, you can restrict your backups so that only files under a certain file size will be included using the last exclusion setting.
For more advanced exclusions, refer to this guide.
Please note: Apple-specified exclusions are now allowed and can be selected. For more information please refer to this guide.
Other Backblaze Settings Articles: