In macOS 10.14 and newer, Apple has made significant changes to their Security and Privacy which can inhibit our program from performing its job.
For macOS 10.14 and later:
If you are running macOS 10.14 Mojave, make sure you're using the correct version found on https://secure.backblaze.com/update.htm. The installation process should walk you through making sure Full Disk Access is set correctly. If you missed it, you can set it later on by following these steps:
1. After updating to the latest client, open the Applications Folder.
2. Open the System Preferences on your Mac by clicking the apple icon in the upper-left corner and select System preferences.
3. Click Security & Privacy settings.
4. Select "Full Disk Access" in the left-hand column.

5. If necessary, click the lock and enter your Mac's username and password to allow you to make changes.
6. Drag the Backblaze app into the Full Disk Access location and release the Backblaze icon into it as show in the images below.
7. Restart your Mac. After reboot, once Backblaze does a hard drive scan it should back up everything that the Mojave upgrade excluded and your backup should remain safe!
For macOS 10.15 and newer:
Note #1, the above settings for Full Disk Access is still required.
Note #2, if you're using Big Sur, make sure our program is version 7.0.2.494 or newer.
If you have external or secondary hard drives connected to your Mac that you would like to backup with Backblaze, and are running macOS 10.15 Catalina, you will need to grant "bzbmenu" access to your removable volumes.
Typically macOS will display a dialog asking if you would like to give bzbmenu permission to read your external or secondary hard drives. If you see this dialog, simply click "Yes" or "Allow" and no further steps will be required.
If you accidentally click no, you can go in to your Security & Privacy settings, navigate to "Files and Folders", and make sure that the "Removable Volumes" checkbox is selected for bzbmenu.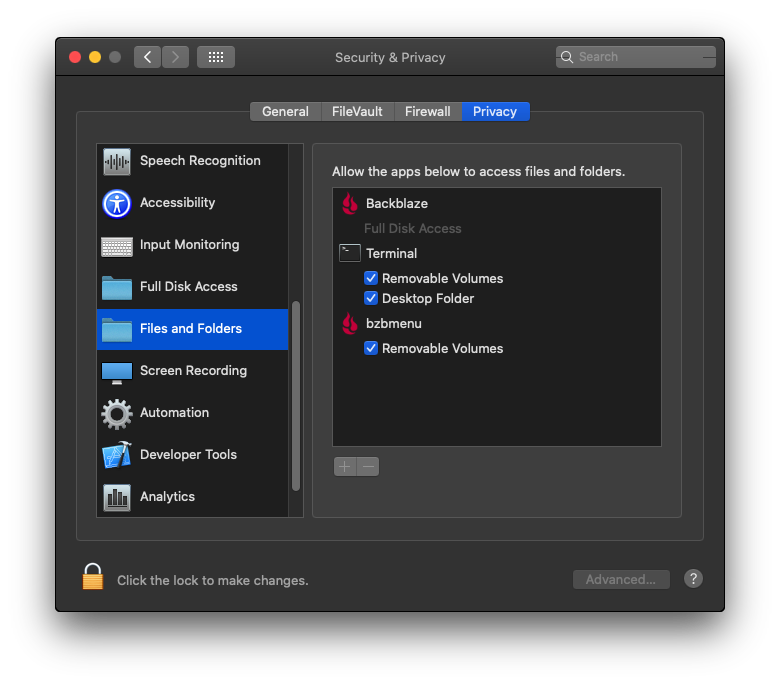 Once selected, you will be able to continue backing up external hard drives! Make sure you connect all selected external drives to your computer to allow bzbmenu to verify access on each individual drive, or you may continue to see the dialog after granting permission.