How to use SimpleBackups with Backblaze B2 Cloud Storage
SimpleBackups allows users to easily backup websites and databases, and store your backups to any cloud storage of your choice, including Backblaze B2 Cloud Storage.
SimpleBackups can be configured with B2 Cloud Storage by following the steps below.
Step 1:
Go to the Storage menu, and click on "Create Storage".

Step 2:
Fill out the form with the following information:
For Provider select "Backblaze B2".
Enter your Key ID and Application Key, and then select your region, which will be shown as part of your S3 endpoint URL, then enter your Bucket name.
Note: Your bucket name must already be created in your B2 account to be used with SimpleBackups.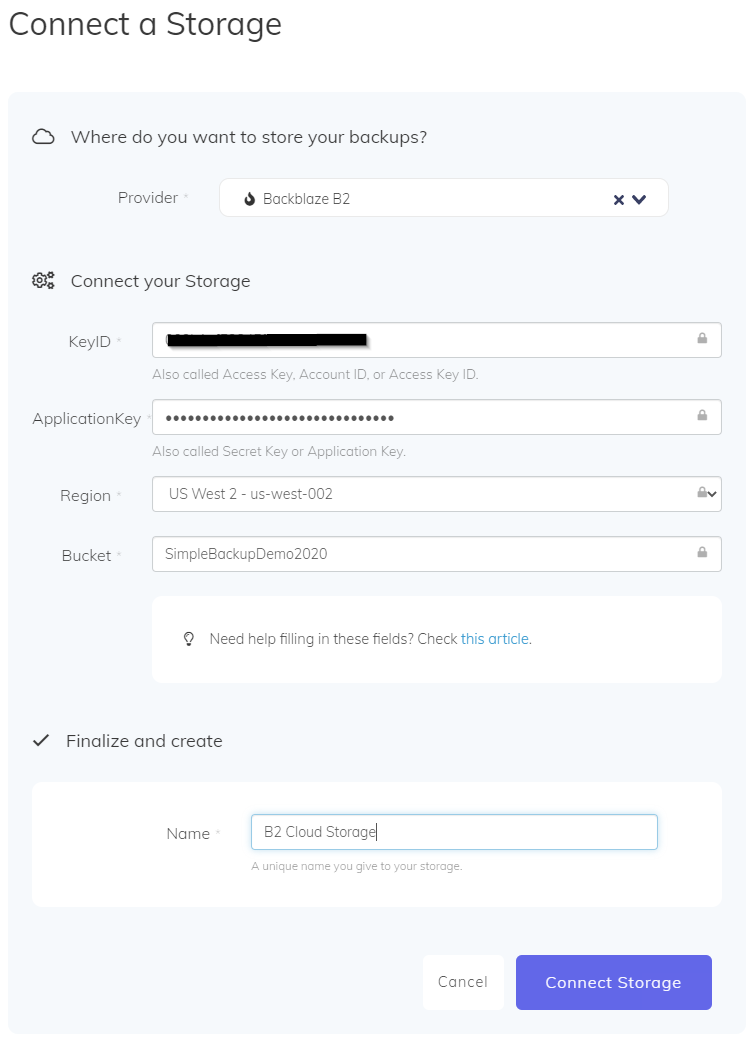 Enter a name for the storage (ex. B2 Cloud Storage), and click Connect Storage.
Step 3:
To backup a server, you need to connect your server first.
Go to the Servers menu and click Create Server.

Step 4:
Using Rapid Server Setup will quickly enable your server for backups.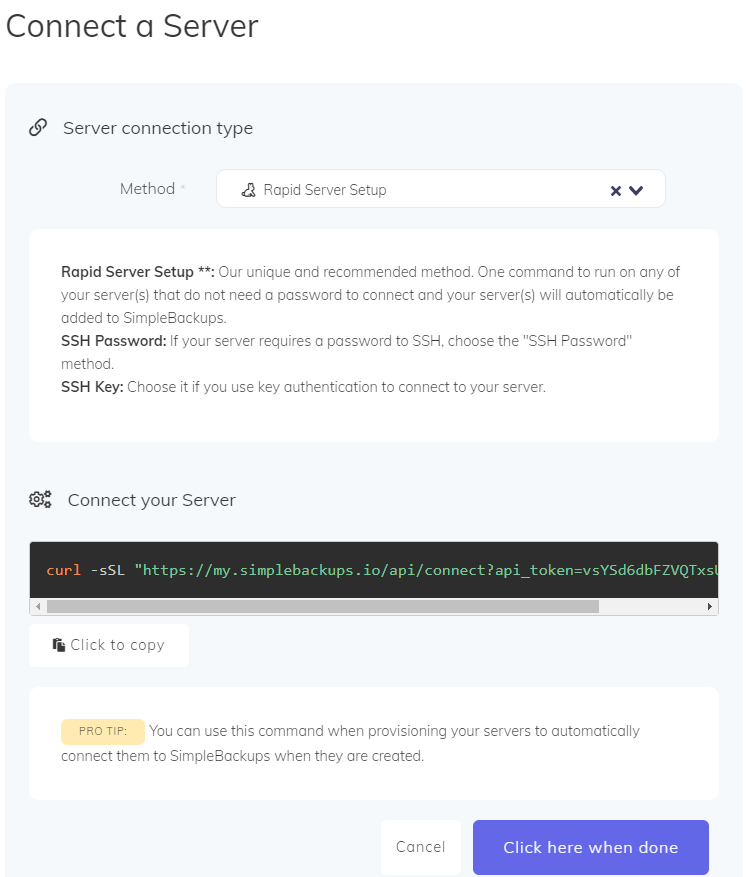 Step 5:
Login to your server and paste in the curl command you copied in the previous step. This will talk to the SimpleBackups API server, download the ssh keys and install them. At the end of the setup process, you will see a confirmation message similar to the one below.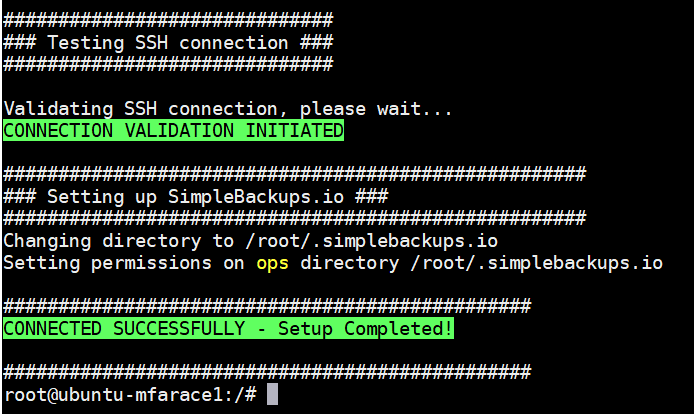 Your server will now automatically show up in the list of servers that can be backed up.
Step 6:
To create a backup job, go to the Backups menu and click Create Backup.

Choose the type of backup. For a website choose File or choose to do a Database backup (MySQL or Postgres), or optionally both (Full backup). Select your Server from the drop down menu and fill out the backup form. Select Save New Backup to complete the setup.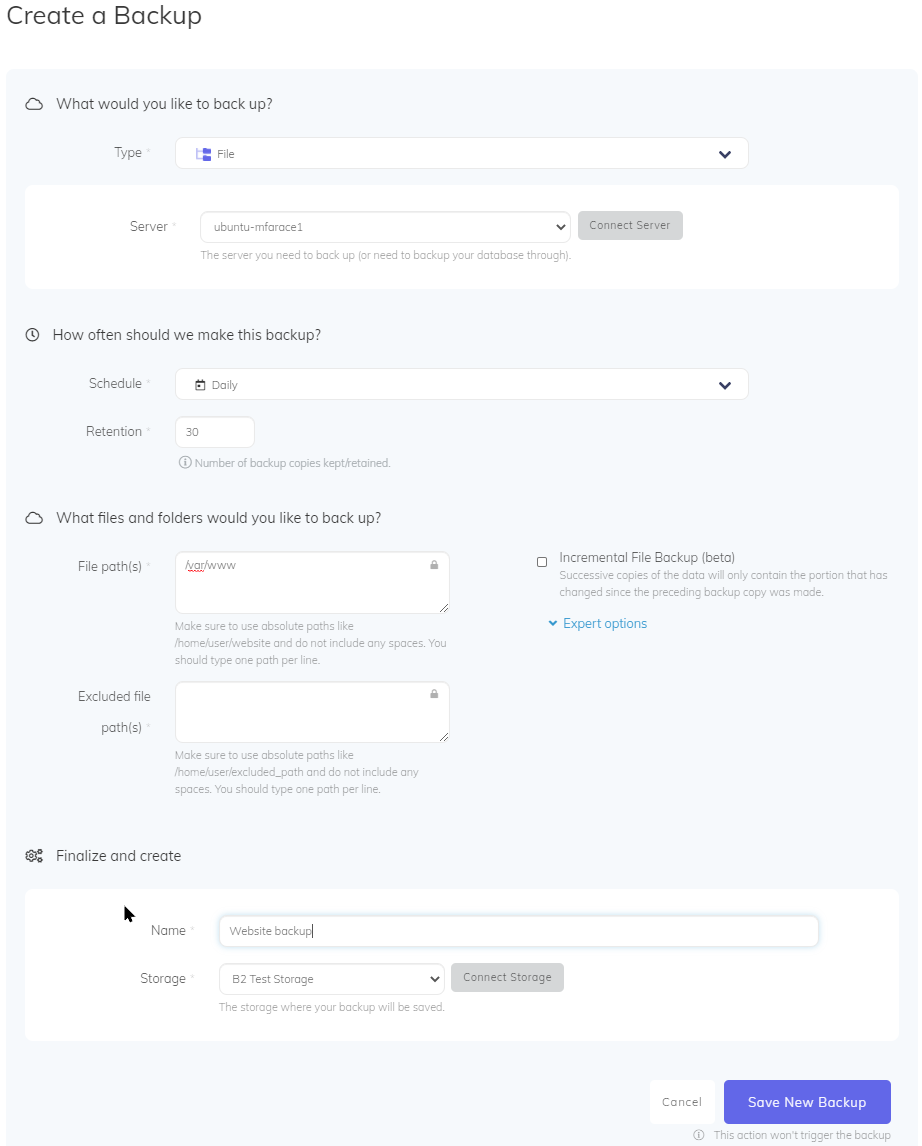 Your website backup setup is now complete, and your backups will be safely stored in your Backblaze B2 account.
The S3 Compatible API for Backblaze B2 Cloud Storage allows 1000's of integrations to work with B2 Cloud Storage natively. If you're new to the S3 Compatible API, please see our Getting Started Guide. If you have any trouble using SimpleBackups with B2, please let us know by emailing us at b2feedback@backblaze.com.