How to use Iperius with Backblaze B2 Cloud Storage
Iperius Backup is a backup software for Windows PCs and Servers, databases and virtual machines. It allows to make automatic backups of files and folders on many devices: external USB hard drives, RDX drives, NAS, LTO tape drives, networked computers, Cloud storage, Amazon S3, Google Drive and FTP servers.
Iperius can be configured with B2 Cloud Storage by following the steps below.
Step 1:
To be able to add Backblaze B2 as a destination, you first need to click on the icon to create backup Job.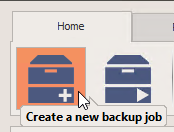 Step 2:
Click the Destinations tab, and then select on the Cloud icon labeled "Add destination on Cloud".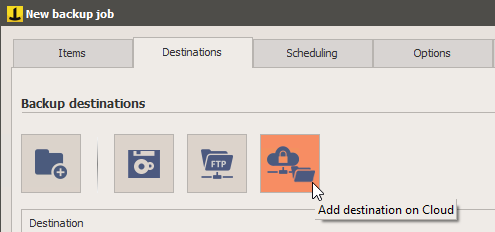 Then Click on the Add / Edit Account icon (orange icon)

Step 3:
Enter a name for the account (Backblaze B2), then for Type, select S3, Key ID, Application Key (App Keys), and S3 Endpoint into the appropriate fields. For the Signature Version, change to type 4. Then click Save.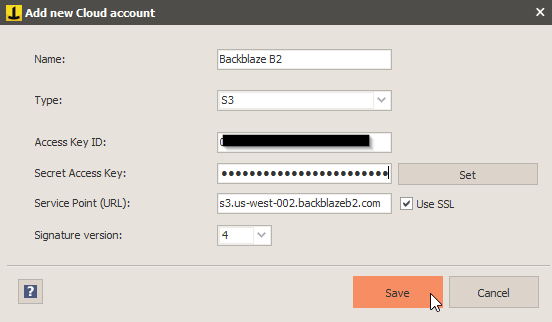 Step 4:
Enter a bucket name or accept the generated name, then select the Backup type that matches how you want your backups stored. Select the number of copies (backups) you want to keep.

Review the Zip Compression and Options tab for features you wish to enable, and then click OK.
Backblaze B2 is now available as a destination for any of Iperius Backup functions.
The S3 Compatible API for Backblaze B2 Cloud Storage allows 1000's of integrations to work with B2 Cloud Storage natively. If you're new to the S3 Compatible API, please see our Getting Started Guide. If you have any trouble using Iperius with B2, please let us know by emailing us at b2feedback@backblaze.com.