Note from Backblaze (October 2, 2019): Due to a recent notification from Veeam related to storage gateways, we are retesting this joint solution to ensure its reliability.
Welcome to the getting started guide for Veeam backup to B2 using Tiger Bridge! Once you have completed the steps below, you will have a true set-it-and-forget-it Veeam backup to the cloud solution in place.
Supported Operating Systems: Windows Only
Step 1: Setup your Backblaze B2 account
Important: Please perform this step if you don't have a B2 account that you would like to use. If you have an account, with a bucket set up, please skip this step and go to the next one.
Enter your email address and password to create your Backblaze account.
2. After entering your email address and password, click the "Create B2 Account & Download Tiger Bridge" button. You should get this prompt and your Tiger Bridge executable should download.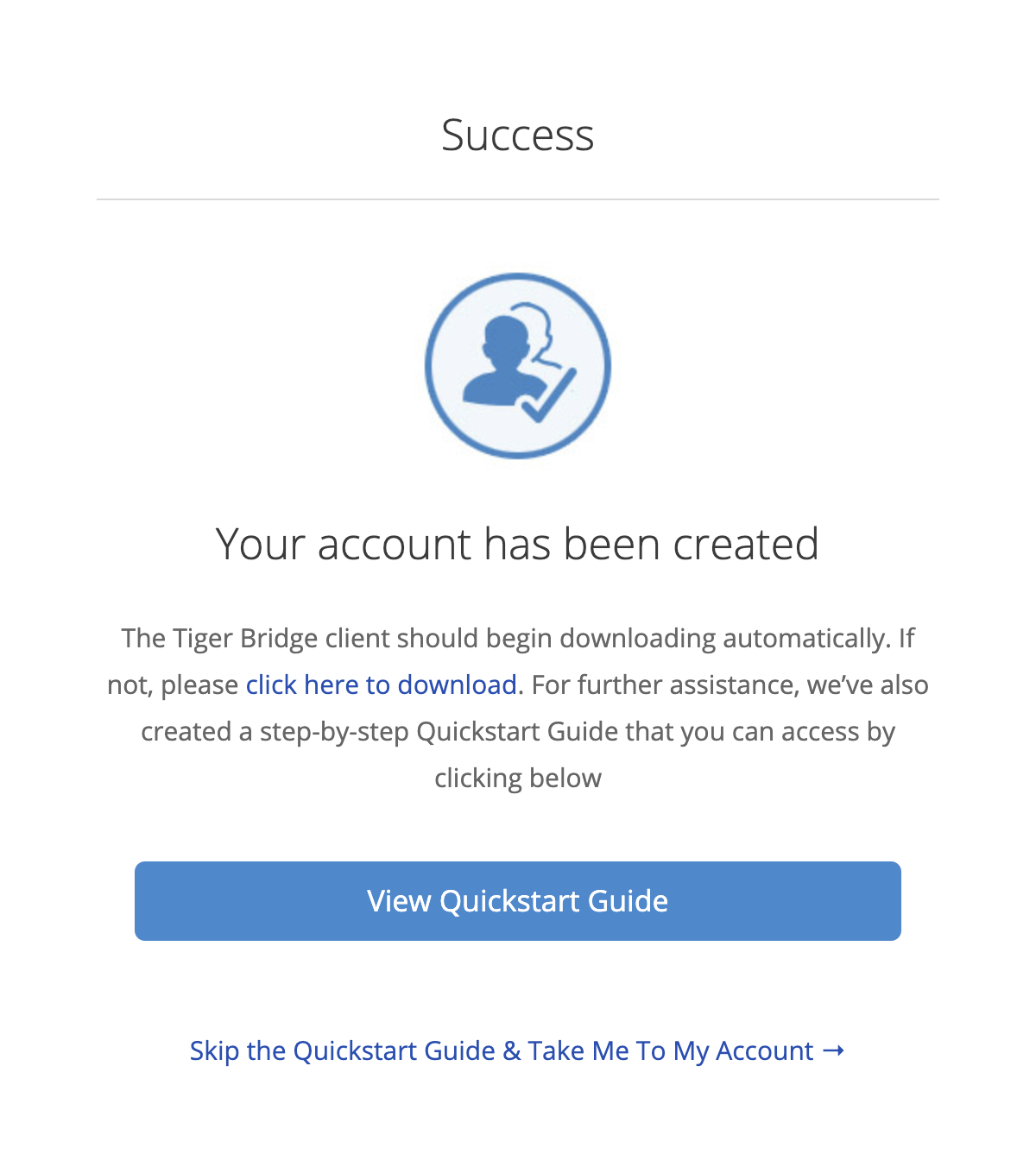 3. At this point, you can either view the Quickstart guide for Tiger Bridge or go straight to your account.
4. Upon logging into your account, you'll automatically be prompted to go to My Settings to set up a phone number for your account. The mobile phone number you enter MUST be able to receive SMS messages.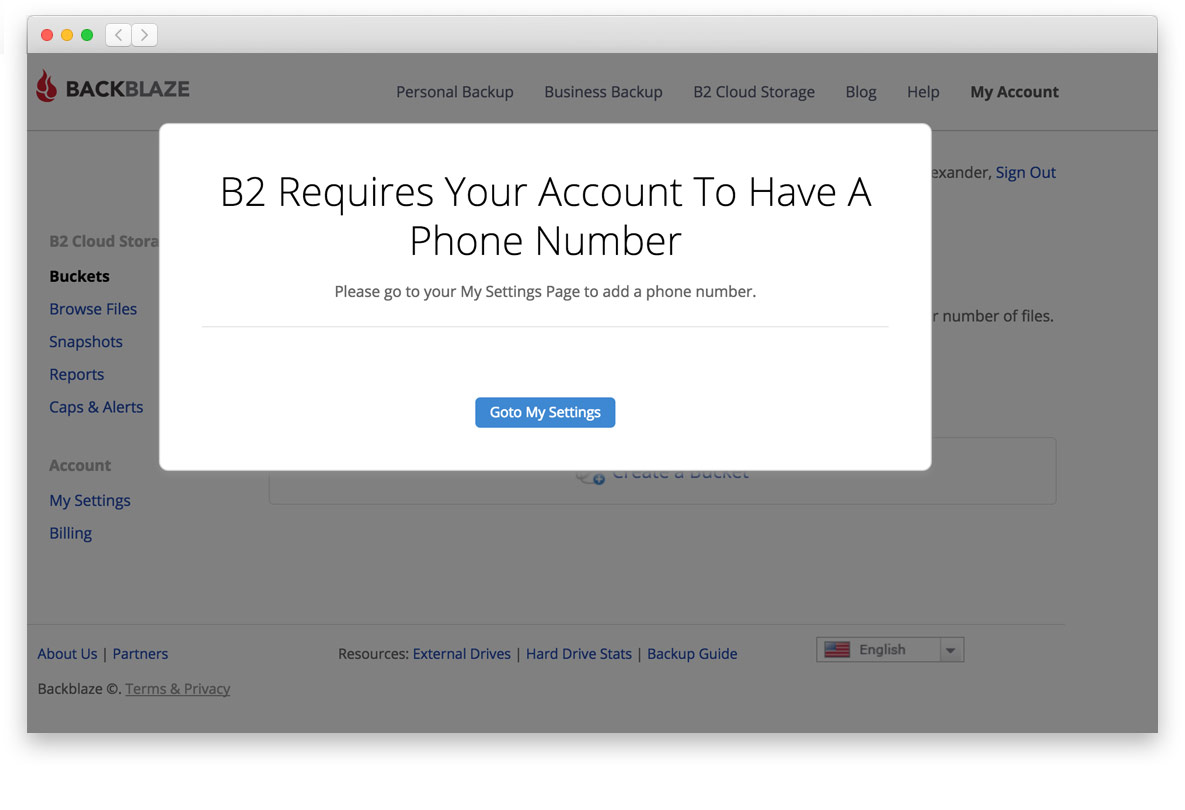 Note: If you already have a Backblaze account, you can log in at https://secure.backblaze.com/user_signin.htm and click on My Settings.
5. Once in the My Settings area, you'll need to enter your Backblaze account password and the mobile phone number (remember - it must support SMS messages!). Then, click Send Code. Once you receive the 6 digit code on your mobile phone, type it into the verification field and click to Verify.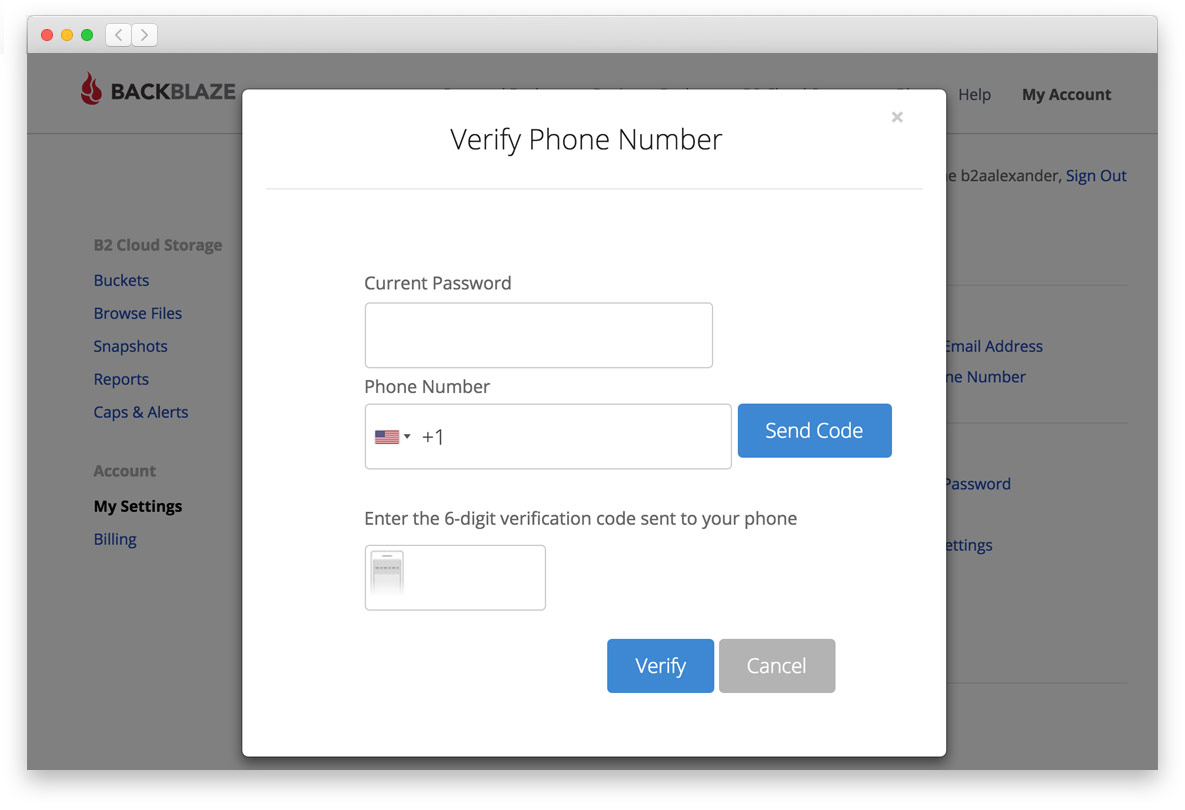 You can now retrieve your Application Key and Key ID. You will need these to set up your Tiger Bridge B2 profile.
6. Click on App Keys and then click on the link that reads 'Add A New Application Key'.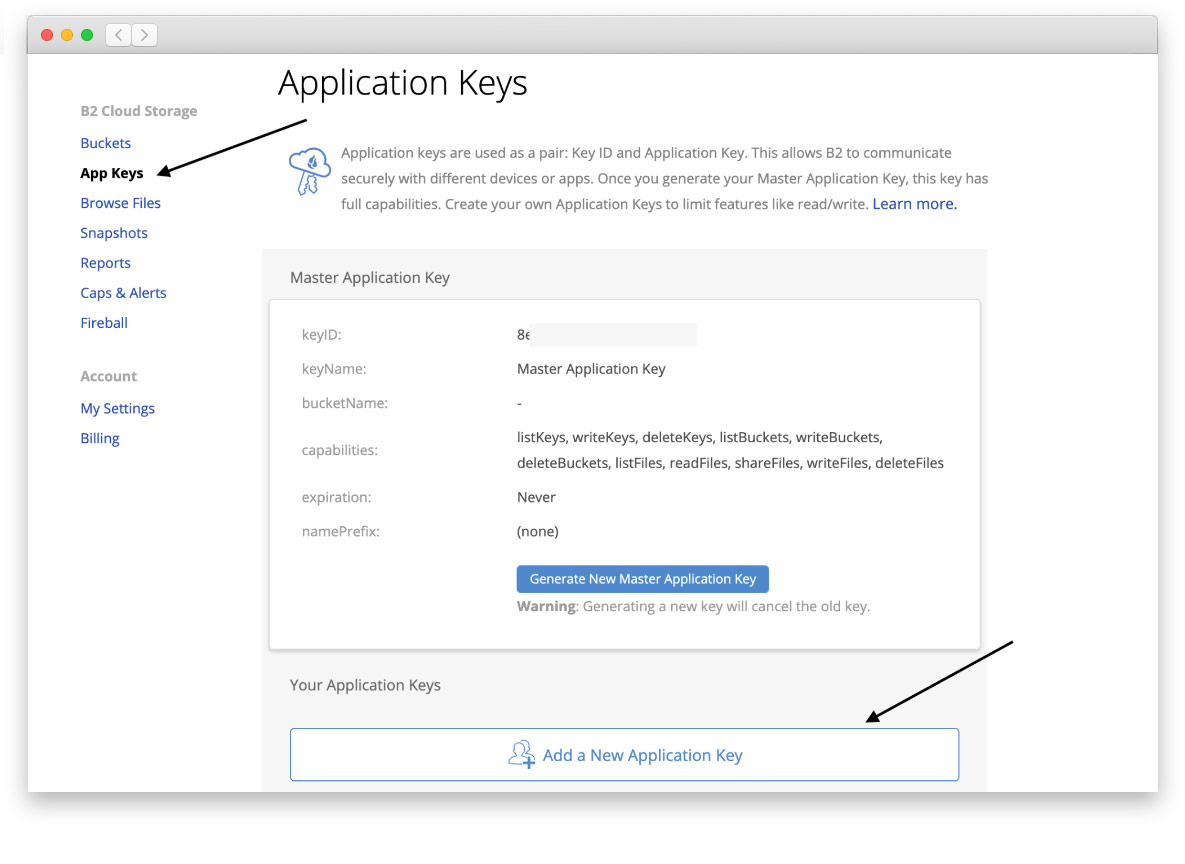 7. You can then enter a Name for the key and click on the button that says "Add a New Application Key".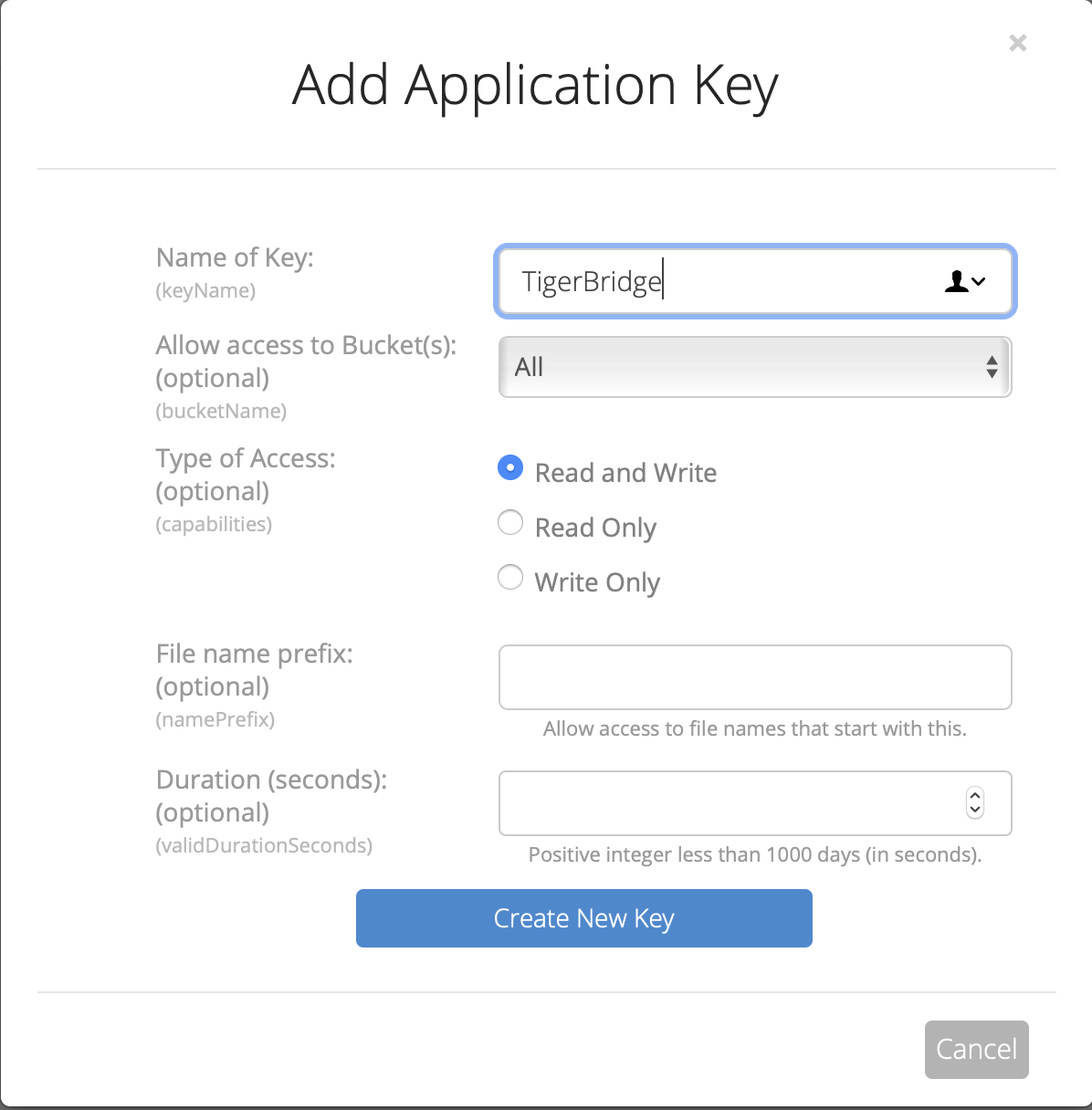 8. When you have the keyID and the applicationKey, be sure to copy them and keep both of these in a safe location. It is recommended to store these in notepad or any text editor as you will need them later on in this document.
Once you close this window, the current Application Key will not display again and you will need both of these numbers to set up your Tiger Bridge account.
IMPORTANT: If you lose the ApplicationKey, you will need to create another ApplicationKey. The new key that you create will invalidate the old one.
Your B2 account is now created and ready to be used with Tiger Bridge.
Step 2. Download, Install, and Configure Tiger Bridge.
If you skipped step 1 above, you can download the Tiger Bridge Installer from: https://www.tiger-technology.com/dl/b2/TigerBridge.exe.
If you didn't skip step 1, the installer should have automatically downloaded to your machine.
Note: For more details on Tiger Bridge as well as a quick start guide, please visit: https://www.tiger-technology.com/software/tiger-bridge/b2/
To get going on a POC, you can either create a new virtual machine to install Tiger Bridge on or install Tiger Bridge on your Veeam Repository Server.
Option 1: Dedicated TigerBridge server
Install Windows Server
Install TigerBridge
Option 2: TigerBridge installed on Veeam Repository Server
Install TigerBridge on the Veeam Repository server
Double-click the installer to start, accept the licensing agreement, and install missing components if you are prompted to.
Configuring TigerBridge
1. Once installed, the "Tiger Bridge Backblaze Configuration Wizard" will open up.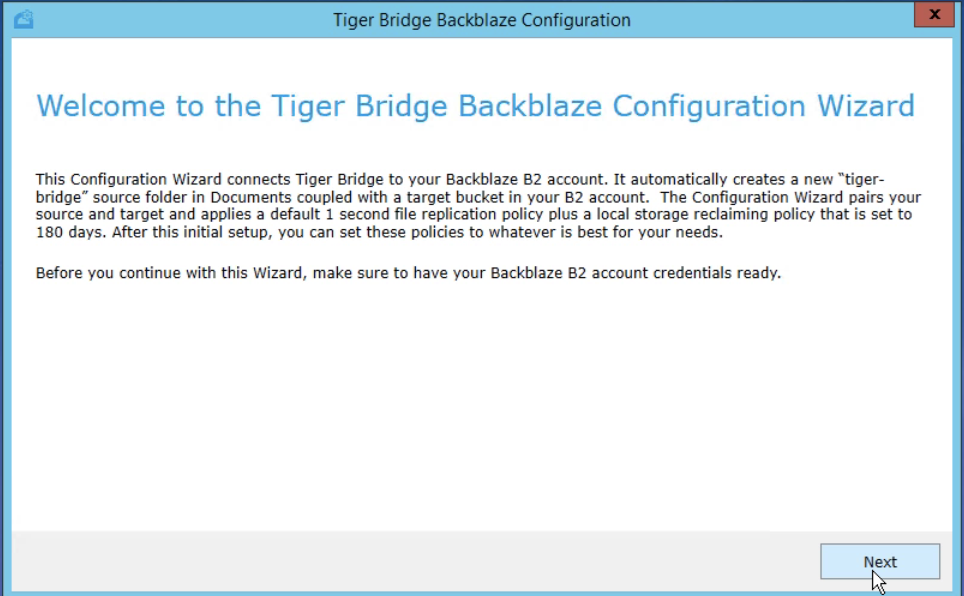 2. Press Next to enter your email and B2 Credentials. If you stored them in notepad or a text document, paste them in below.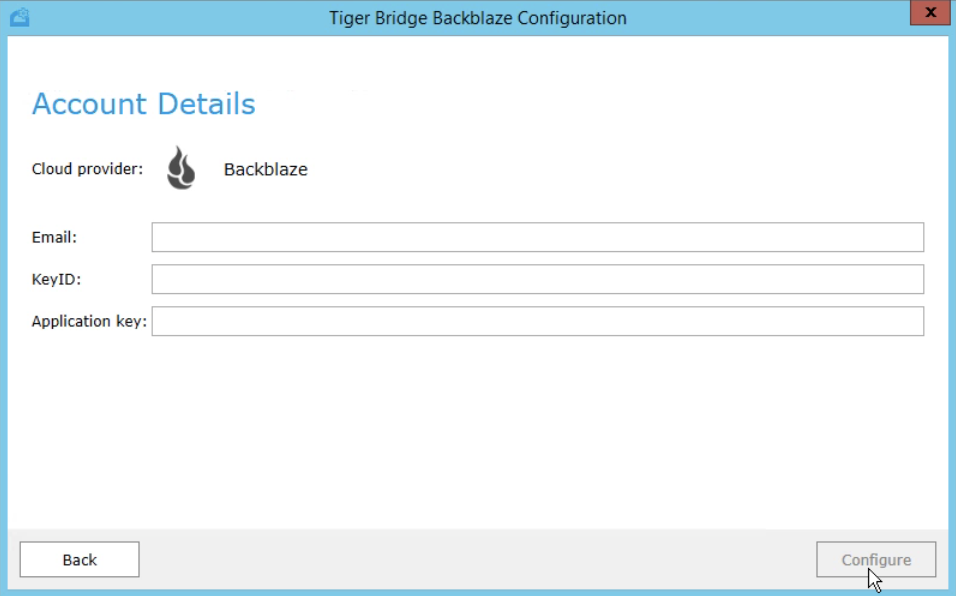 3. Once done, click "Configure"
4. Upon success, you will get a summary page as follows:
Note: Tiger Bridge will automatically create a unique bucket name in your account. However, If you create an App Key that is restricted to only one bucket, the installation will give an error that it can't create the default bucket name, but then will allow you to select the bucket the App Key has access to.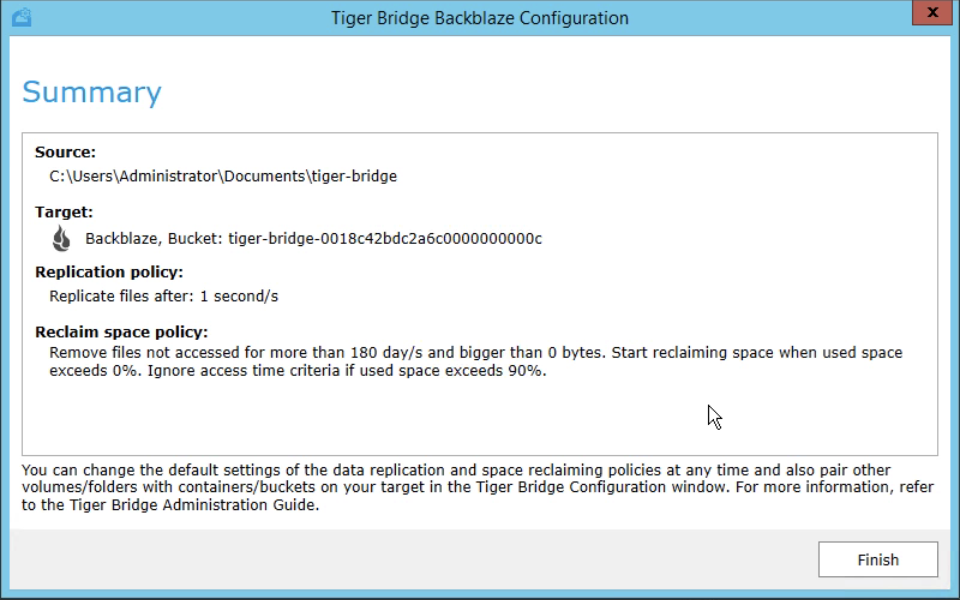 5. Click Finish to close the wizard.
6. Double click the Tiger Bridge Configuration icon on the desktop.
7. Select the default source (C:\....Administrator\Documents\Tigerbridge)
8. On the right side browse to the top level of the Repo Drive (I added one called T:) and create a new directory called TigerRepo1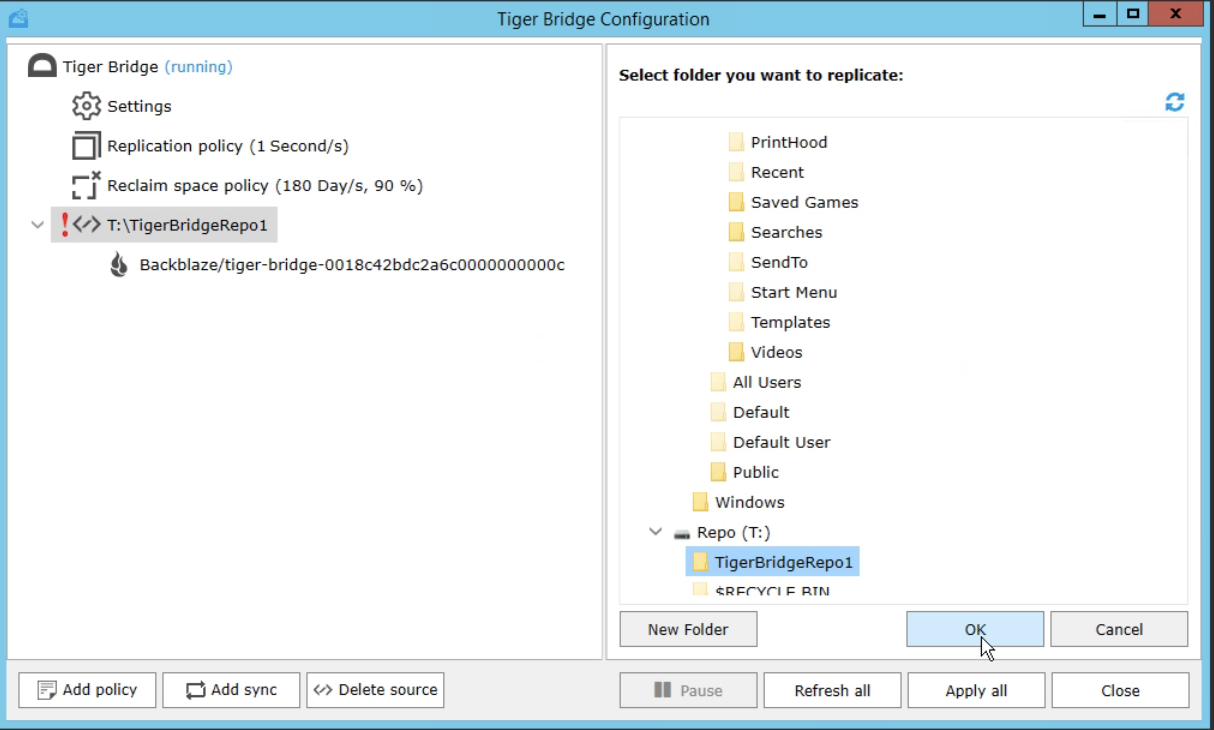 9. Then click OK then Apply.
Configuring Veeam
1. On your Veeam Backup and Replication Console, select "BACKUP INFRASTRUCTURE" on the left pane and then right click to and select "Add Backup Repository..."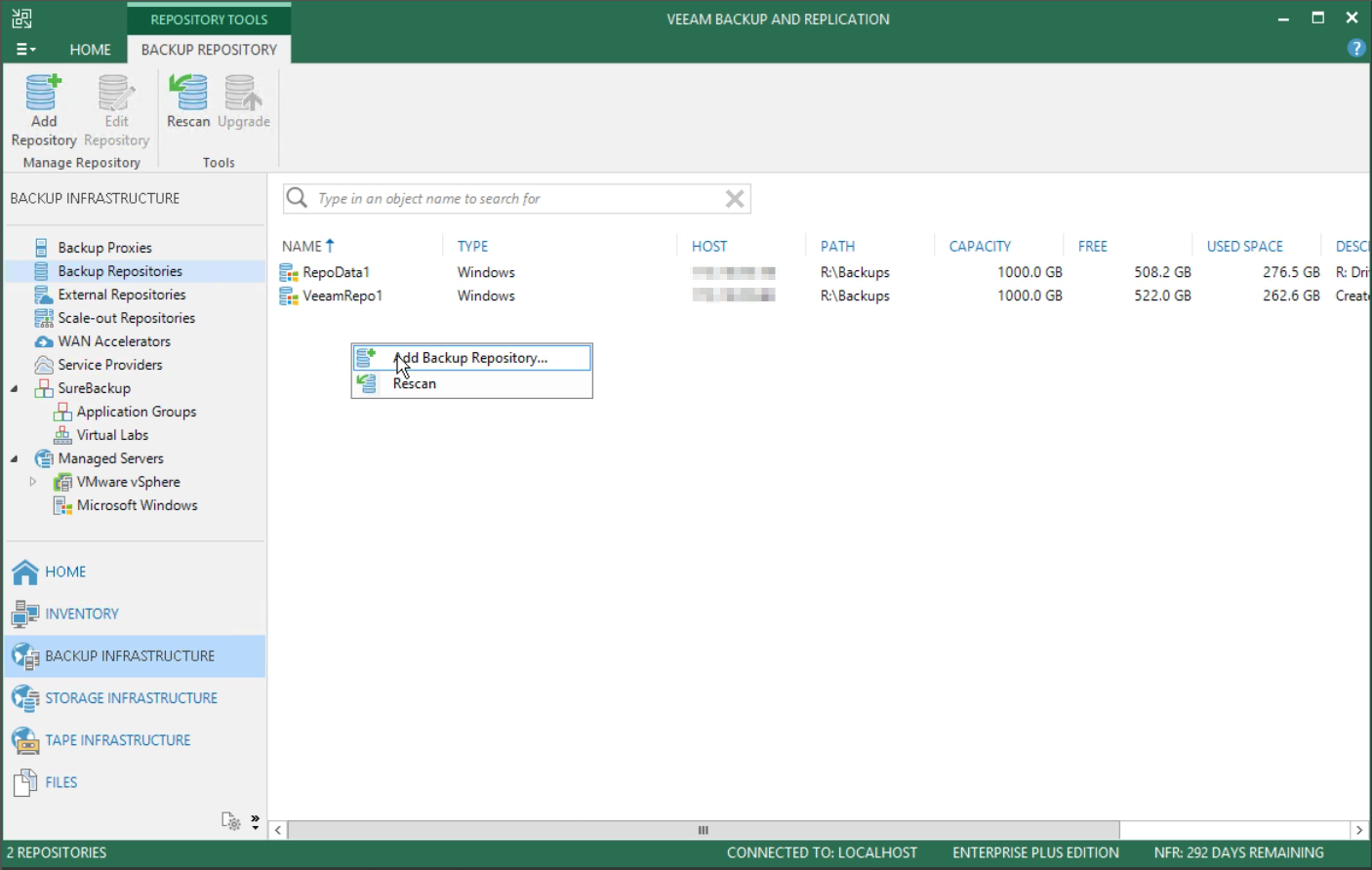 2. Select "Direct attached storage"
3. Select the Operating System Tiger Bridge was installed on, in this case Microsoft Windows.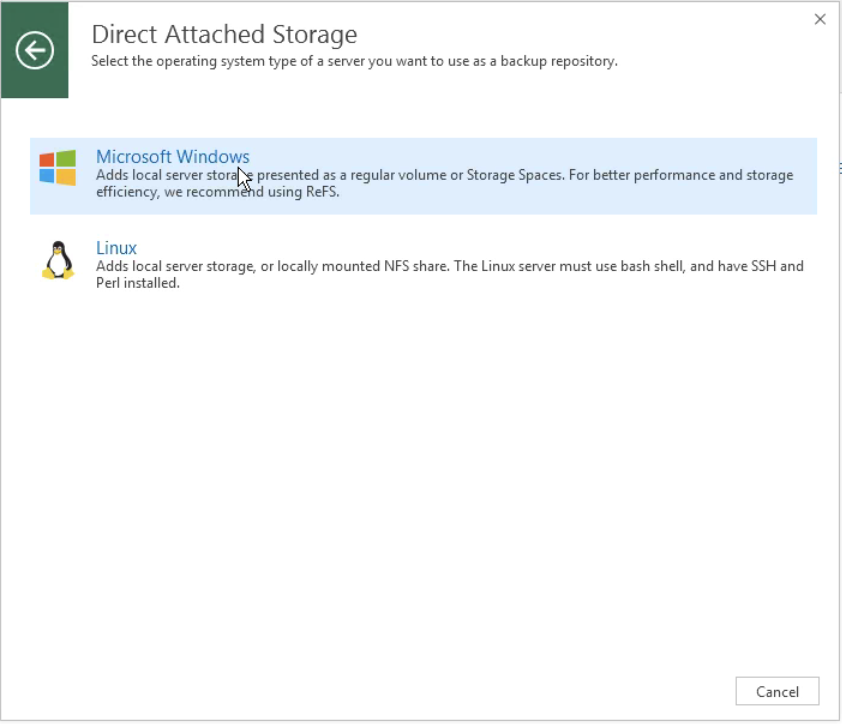 4. Go Through the new Backup Repository Wizard and configure the Tiger Bridge Repo.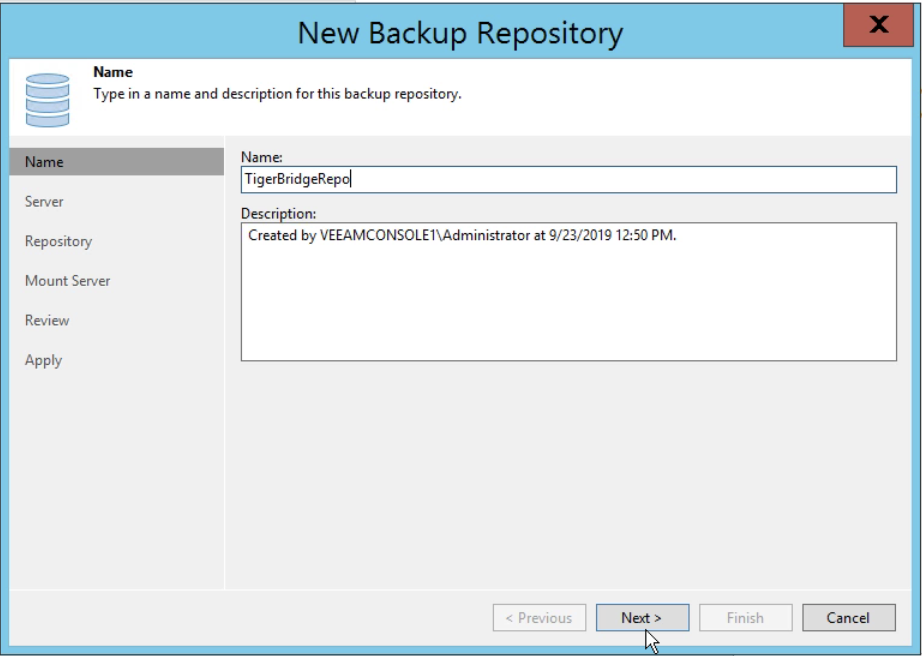 5. Add the Tiger Bridge Server as your new Windows Server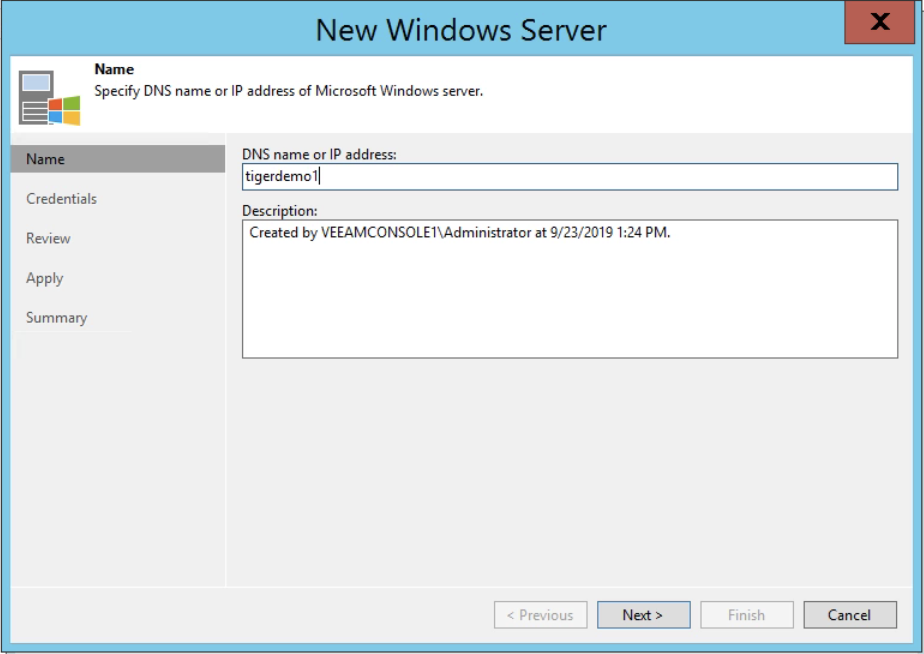 6. Click Next and then select the Credentials you wish to use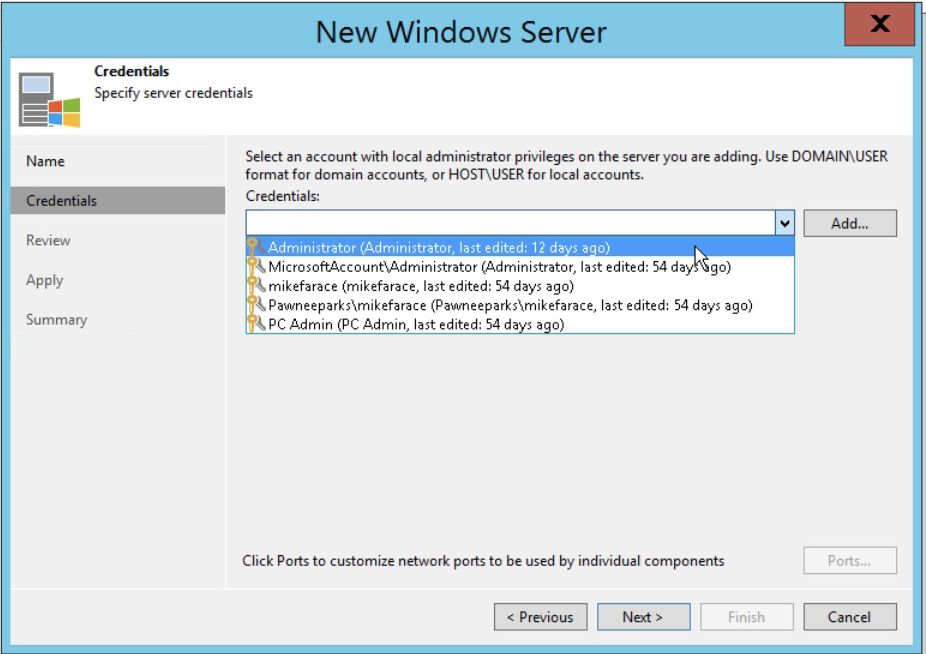 7. Click Next and Review the components that need to be installed.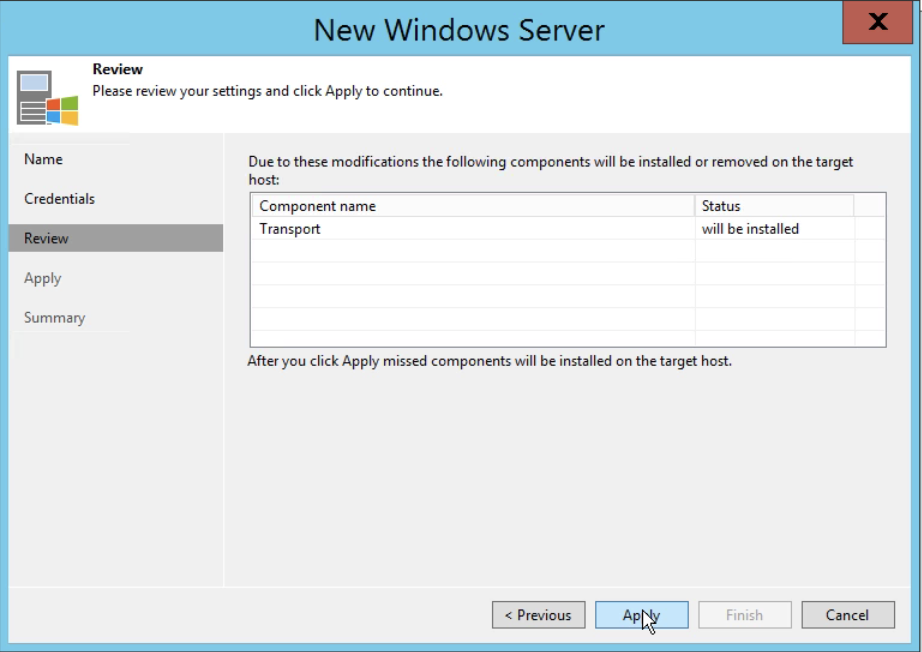 8. Press Apply and Veeam will perform the steps it needs to add the new server.
9. Once complete, you will get a summary screen. You can press the Finish button now.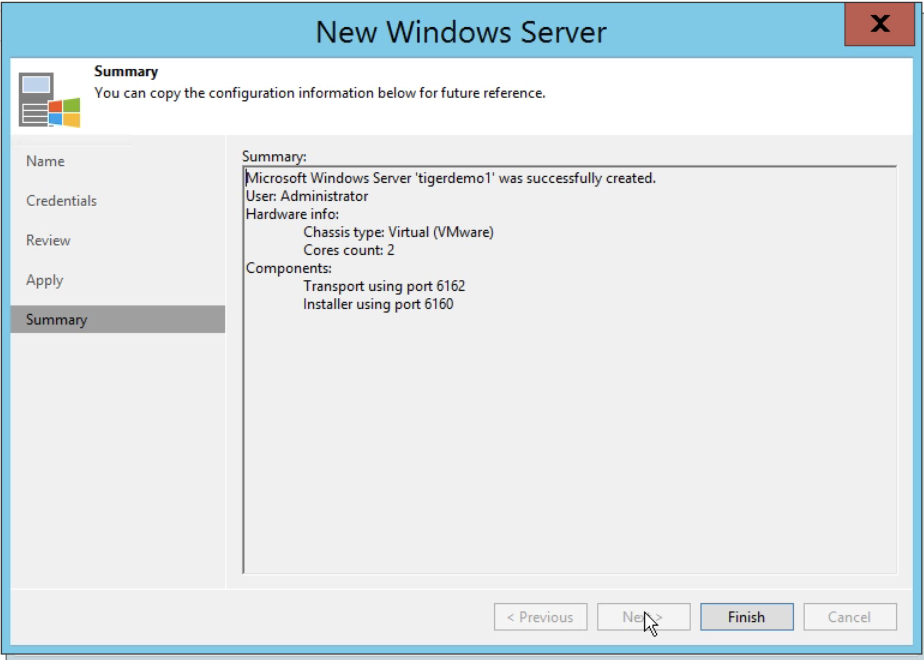 10. You will now be taken to the "New Backup Repository" Screen. Using the Browse button, browse to the folder you created for backups on your Tiger Bridge Server. Click Next.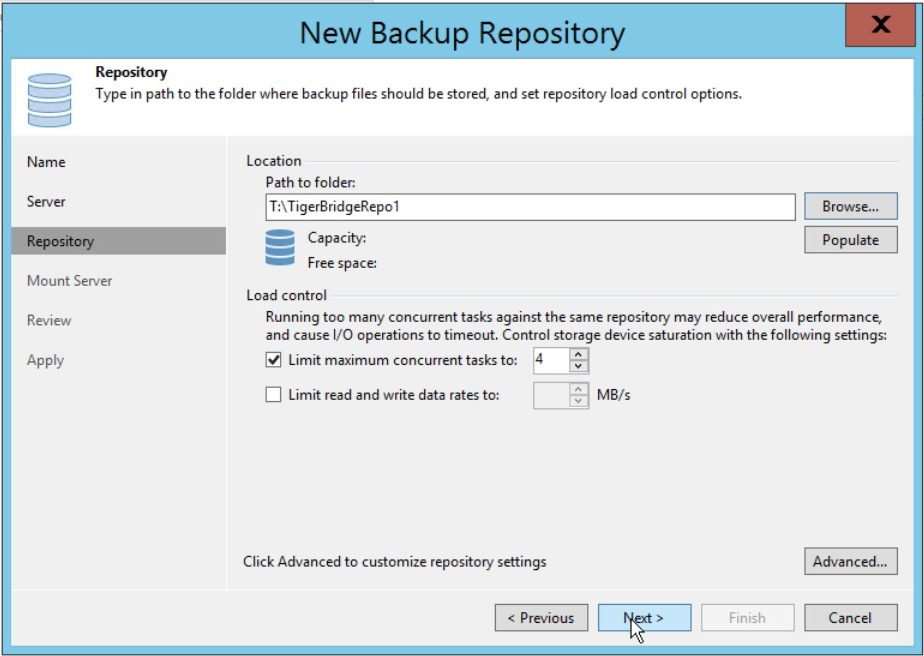 11. Uncheck the "Enable vPower NFS Service on the mount server (recommended)" checkbox and click Next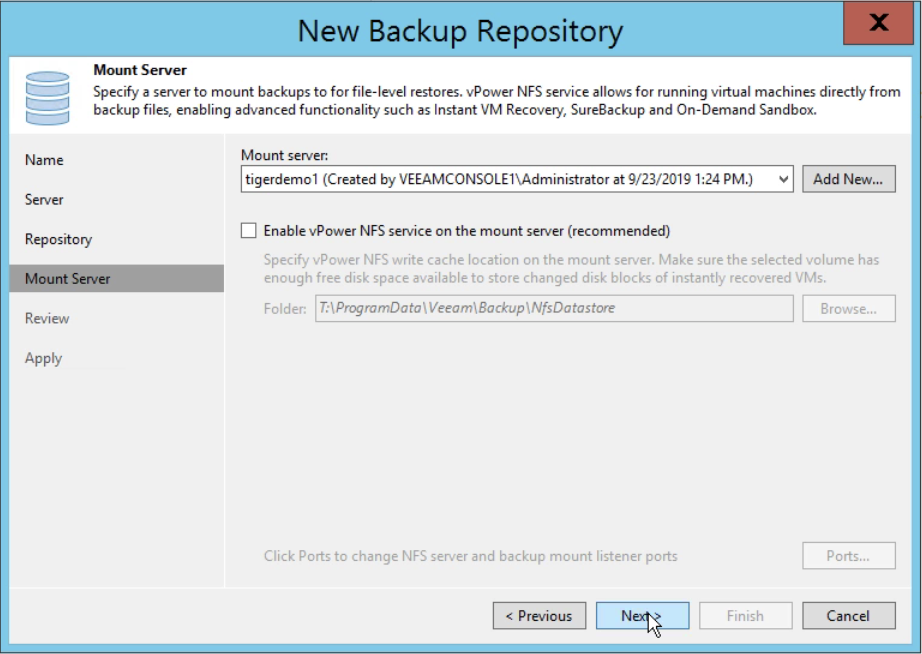 12. Review the settings and press Apply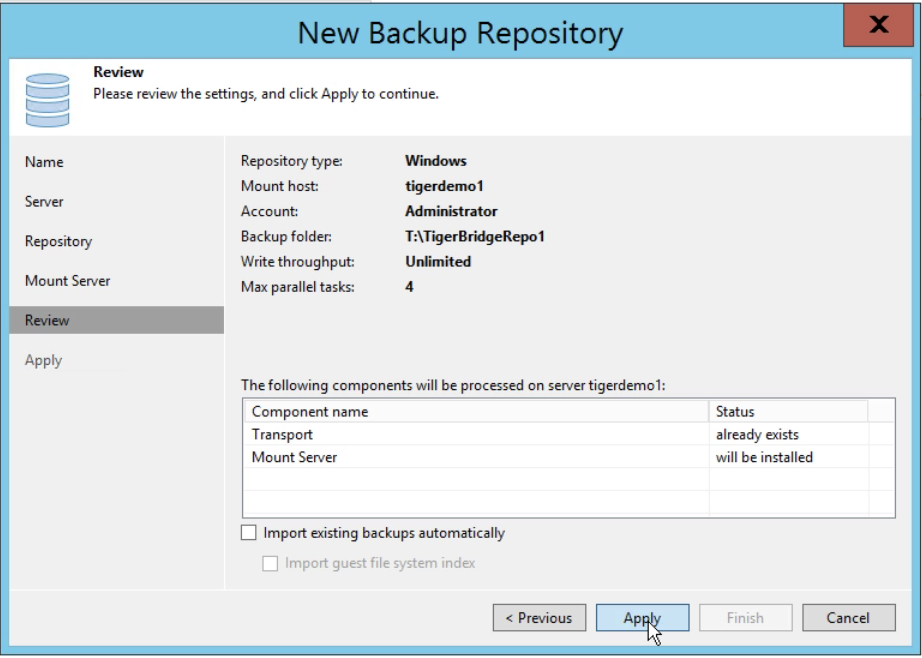 13. Once all settings have been applied, you will get a summary window as follows. Click Finish.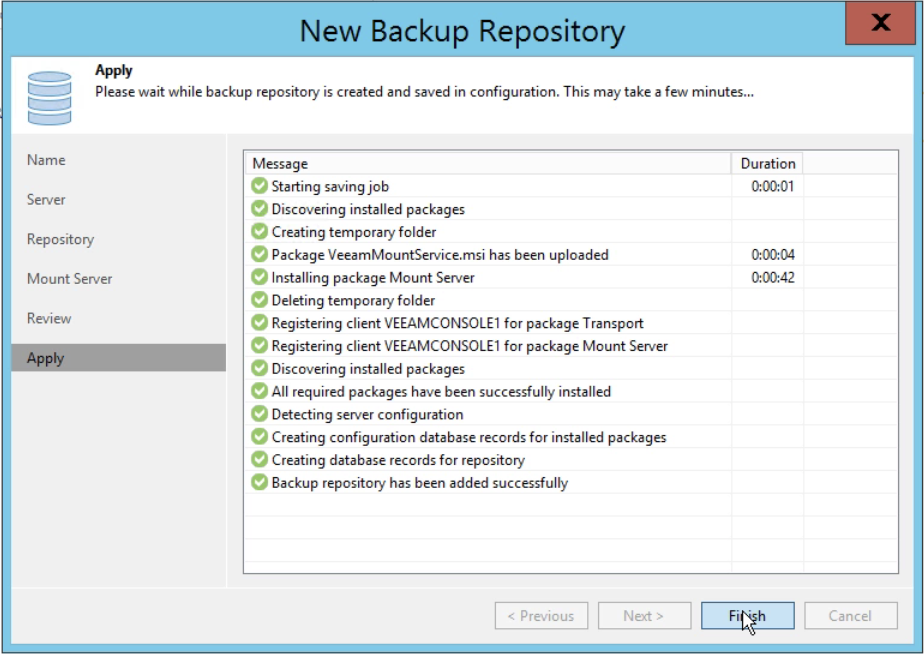 14. On the Veeam Backup and Replication Console, select the Backup Copy Dropdown, and choose, Virtual Machine..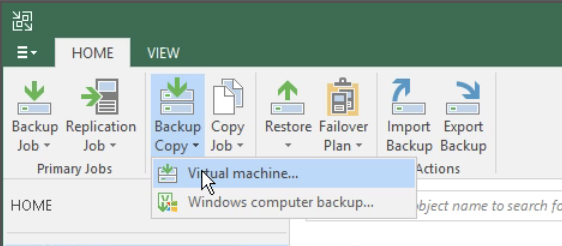 15. Create a New Backup Copy Job and click Next.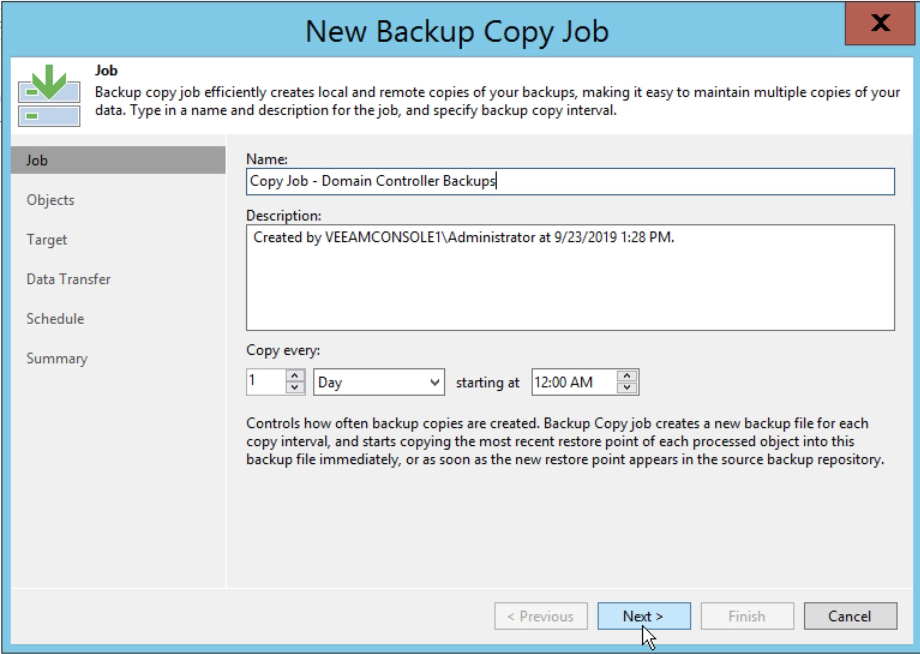 16. Select Add, then choose "From Backups"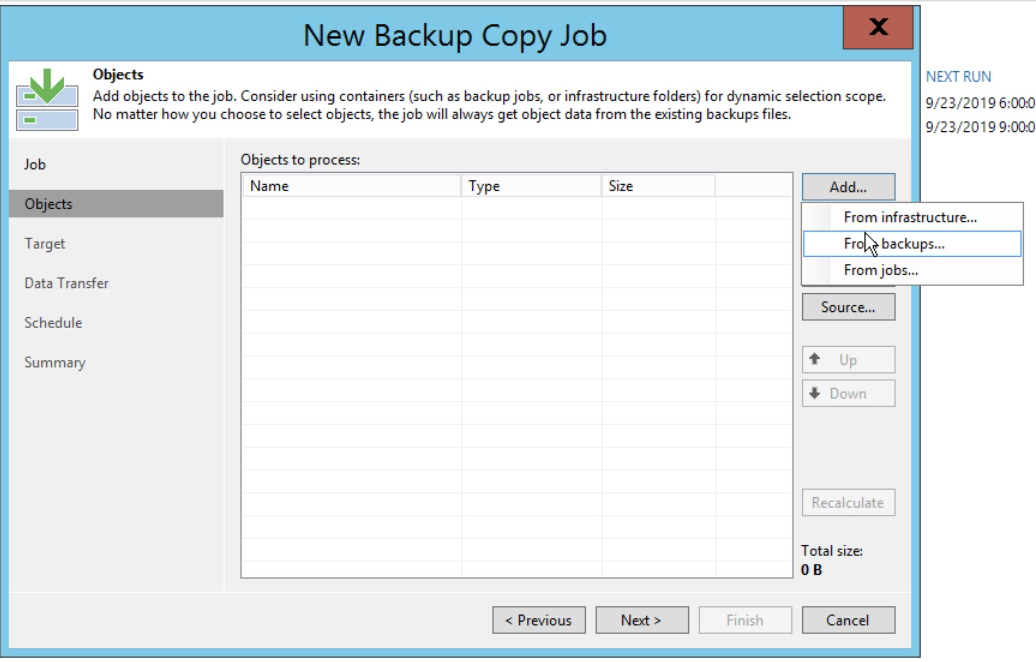 17. Choose the Server you wish to base the copy backup job on and click Add.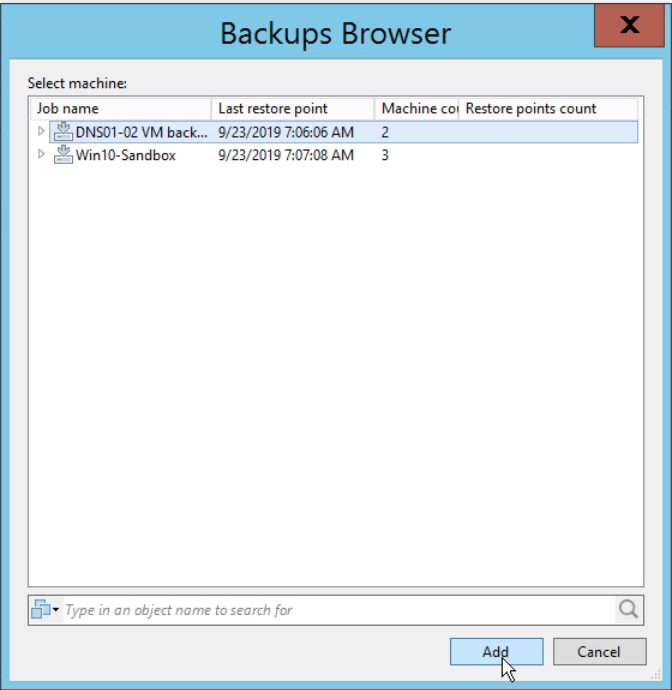 18. Select the Target you wish to use and the restore points you wish to keep and click Next.
19. Select the Data Transfer mode you wish to use. We recommend Direct. Click Next.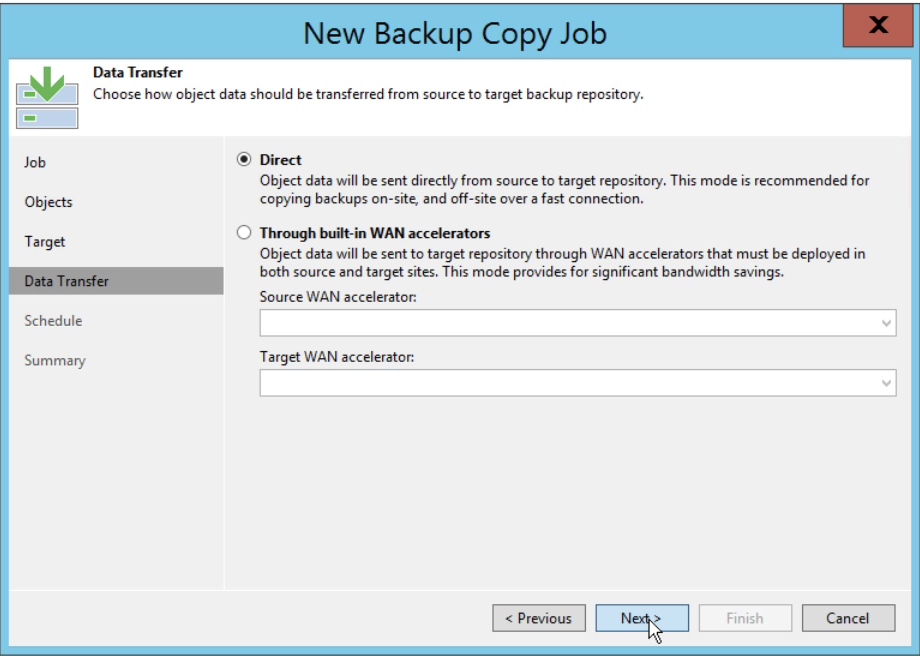 20. Define the schedule on when you wish this copy job to run. Click Next.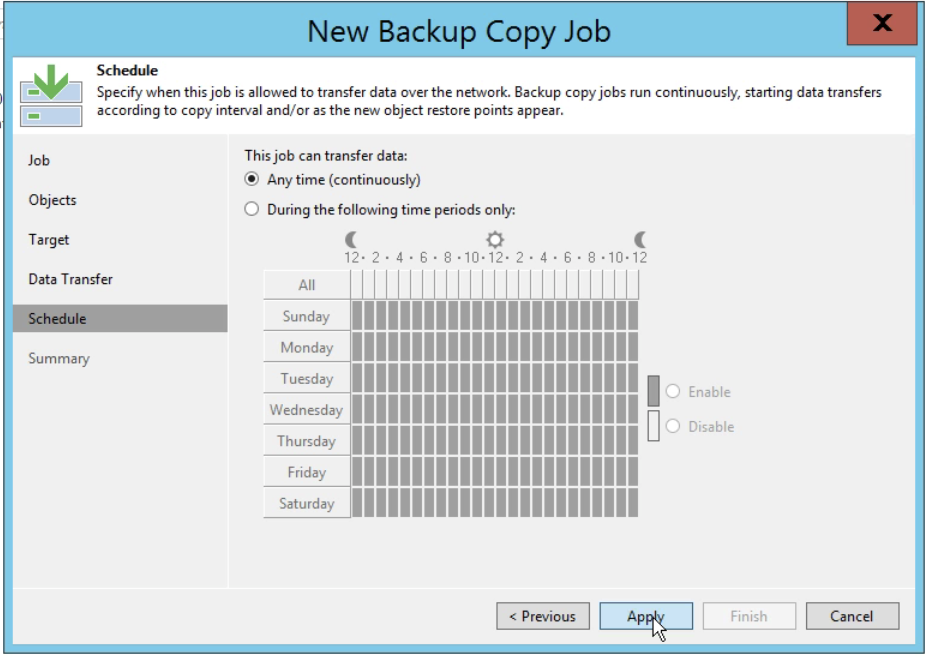 21. Review the summary page and click Finish.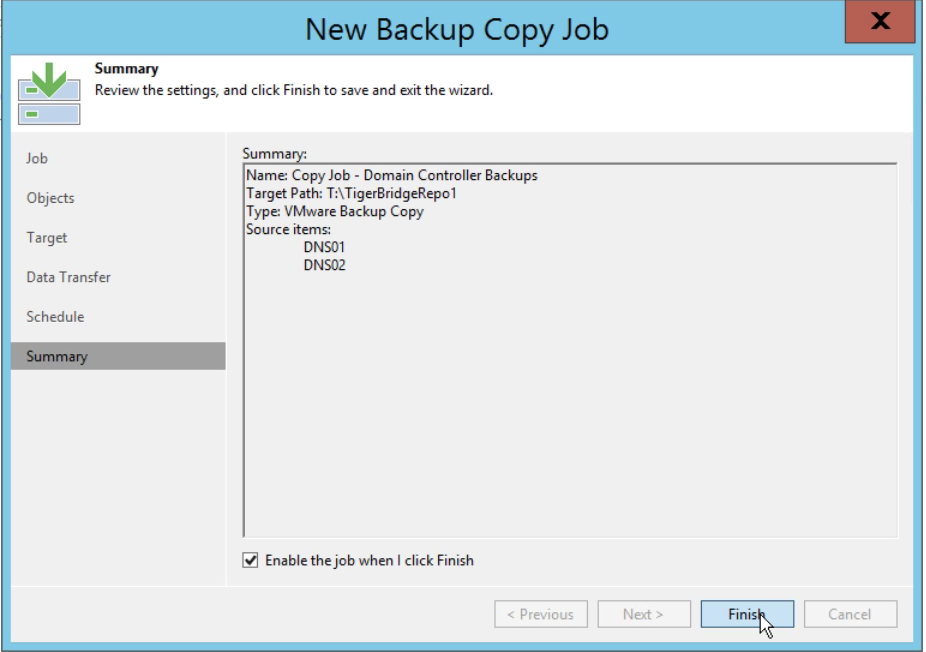 At this point you have successfully enabled backup to B2 using Tiger Bridge. If you have any questions or need any assistance, please contact sales: https://www.backblaze.com/business-veeam-backup.html#contact