OneDrive's Files On-Demand feature will keep Backblaze from being able to back up the OneDrive folder. Disabling this feature allows Backblaze to back up the OneDrive folder.
OneDrive's Files On-Demand feature frees up space on your hard drive by keeping the files in the OneDrive folder online, rather than saved to your computer. Backblaze can only back up files that are saved and stored on your computer.
To disable OneDrive's Files On-Demand feature, follow these steps:
1. Find the OneDrive cloud-like menu icon in your Notification Tray at the bottom right corner of your screen. You may need to click the up arrow to expand more icons. Right-click on the OneDrive menu icon, and select Settings.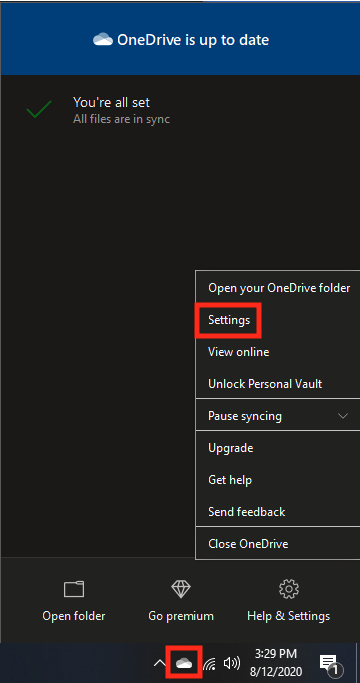 2. On the Settings tab in the OneDrive Settings, uncheck the box in the Files On-Demand section that says "Save space and download files as you use them."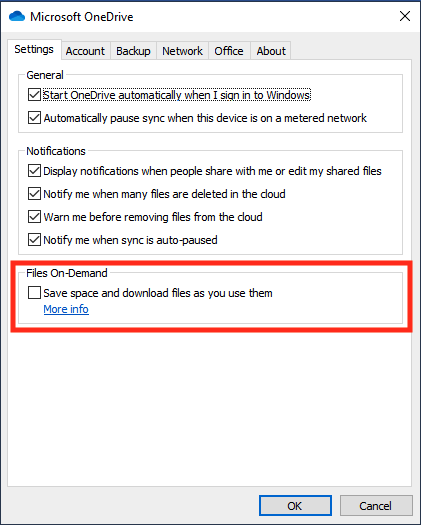 3. You will get a notification like the one shown below, reporting that all files stored in OneDrive will be downloaded to your computer. Click OK to dismiss this notification, then click OK in the OneDrive Settings for your changes to take effect.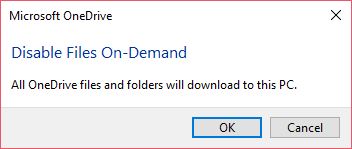 Backblaze will automatically start backing up your OneDrive folder once you have made this change. The next scan it performs will pick up those files and start uploading them.
OneDrive files still not backing up after disabling Files On-Demand
If you have verified the following:
Disabling the Files On-Demand feature may not have removed the Reparse Point flags from the folders inside the OneDrive folder like it should have. These flags prevent Backblaze from backing up files in those folders. To determine if this is the case, try these steps:
Open PowerShell on your computer. You can do that using one of these options:


Open the Start Menu, scroll down to the Windows PowerShell folder and open it, click on Windows PowerShell.
Press Windows Key + R to bring up the Run dialog, type "PowerShell" without the quotes and hit Enter.

Copy and paste this command into PowerShell, and hit enter: