Synology's Hyper Backup allows users to back up various kinds of data (system configurations, shared folders, and applications/packages) on your Synology NAS, manually or by schedule. You can store the backup data in local shared folders, remote servers, and public clouds, like Backblaze B2 with our new S3 API.
Note: Hyper Backup version 2.2.5-1261 or later is required.
Synology's Hyper Backup can be configured with B2 by following the steps below.
Step 1:
Launch Hyper Backup, and then click the plus (+) sign to create a new Data backup task
Step 2:
For Backup Destination, scroll down to Cloud Service and select "S3 Storage", then click Next.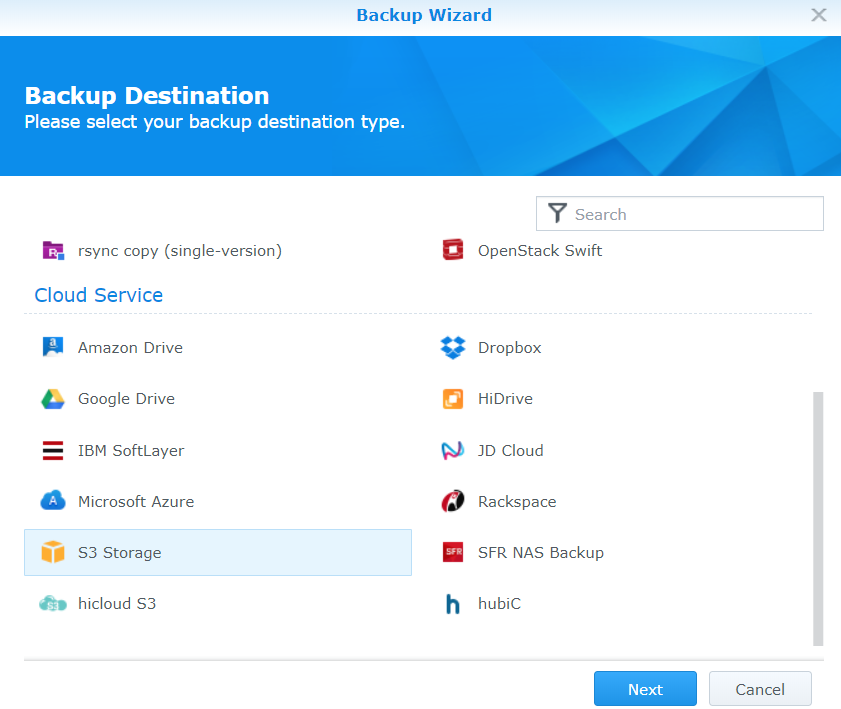 Step 3:
In the field S3 Server, select "Custom Server URL"
In the field labeled:"Server address", enter your "S3 Endpoint"
In the field labeled, "Access Key", set your B2 keyID
In the field labeled, "Secret Key", set your B2 applicationKey

All of these fields can be found in your Backblaze account's App Keys page. (See screenshot below.) With the exception of the S3 Endpoint, which is found in your Backblaze account's Buckets Page.
In the field labeled, "Signature Version", set v4.
Once the above fields are set properly, you should see all your Buckets under the field, "Bucket name". Select the bucket you wish to use. If you've created a bucket-restricted key, make sure you've selected the option to "List All Bucket Names" as this is necessary for S3 integrations.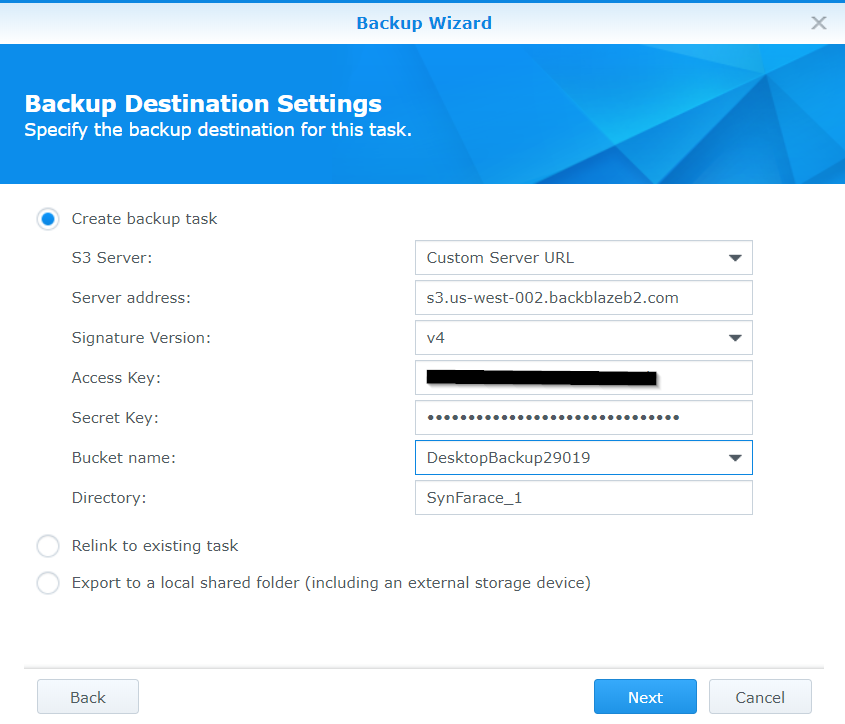 Screenshot from Backblaze B2 App Key page after you successfully create a new key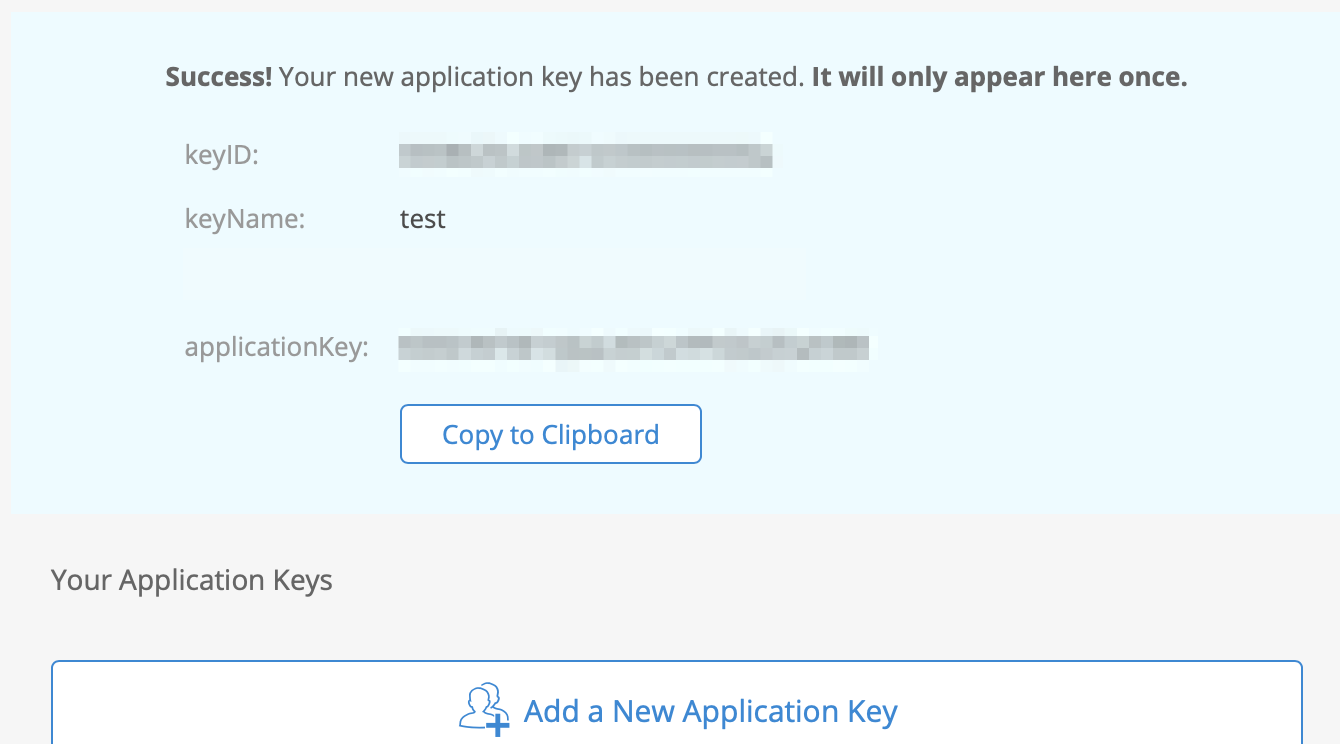 Step 4:
Select the local directory or directories to backup and click Next.
Step 5:
Select Hyper Backup and then click Next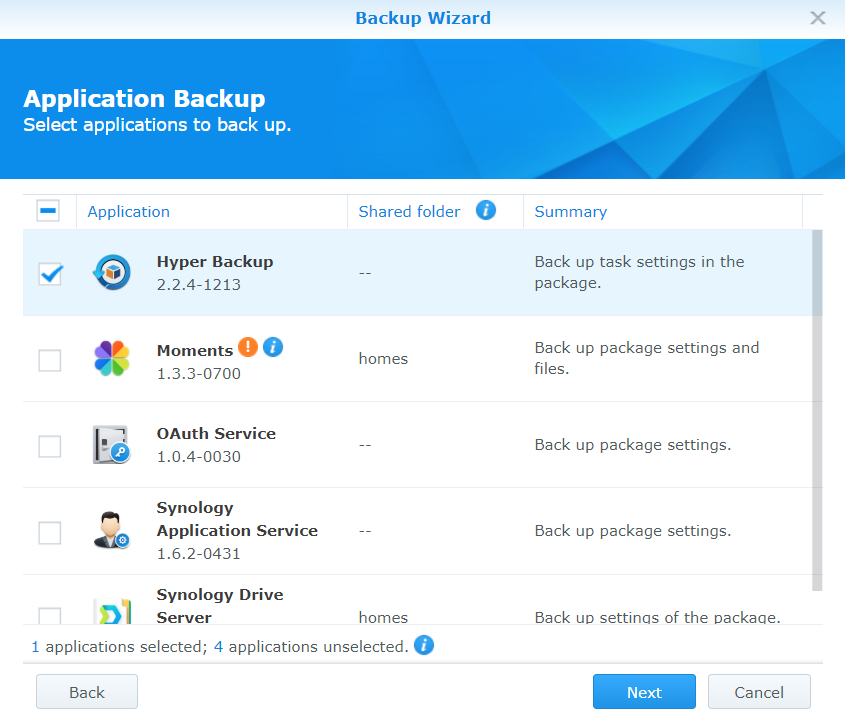 Step 6:
Enter a Task name (ex. Backblaze S3 Backup), then click Next and Apply.
Your backup task is now complete.
The S3 Compatible API for Backblaze B2 Cloud Storage allows 1000's of integrations to work with B2 natively. If you're new to the S3 Compatible API, please see our Getting Started Guide. If you have any trouble using Synology Hyper Backup with B2, please let us know by emailing us at b2feedback@backblaze.com.